I have had a small (okay, it's huge!) obsession with bullet journals ever since I came across them. Lately, I have been looking for bullet journal hacks and tips to take my bujo to the next level. When I first found out about bullet journals, I was captivated. Regular planners were never for me, I had so many to-do lists, events and had no way of keeping track of everything that I had going on.
However, when you're starting out, you're likely to make some mistakes while you figure out what works for you and what doesn't. All of these bullet journal hacks are great for beginners and are very forgiving if you're still figuring things out.
While these bullet journal hacks and tips will make your bujo more visually appealing, it will also help improve your productivity and focus. Spend less time getting organized and more time getting sh*t done.



Tools:
Before we dive right in, I want to mention the tools I have found and use for Bullet Journaling. If you're just starting out on your BuJo journey, these are the tools I wish I had purchased at the beginning instead of overpriced books and markers that 'professional bullet journal-ers' recommended me.
That's it. And to be completely transparent, I only use the markers and stencils a couple of times a month, when I set up new pages, or am bored and want to decorate.
They're great to have on hand for when you're trying to figure out how to decorate your bullet journal.


..
#1: Color Code Everything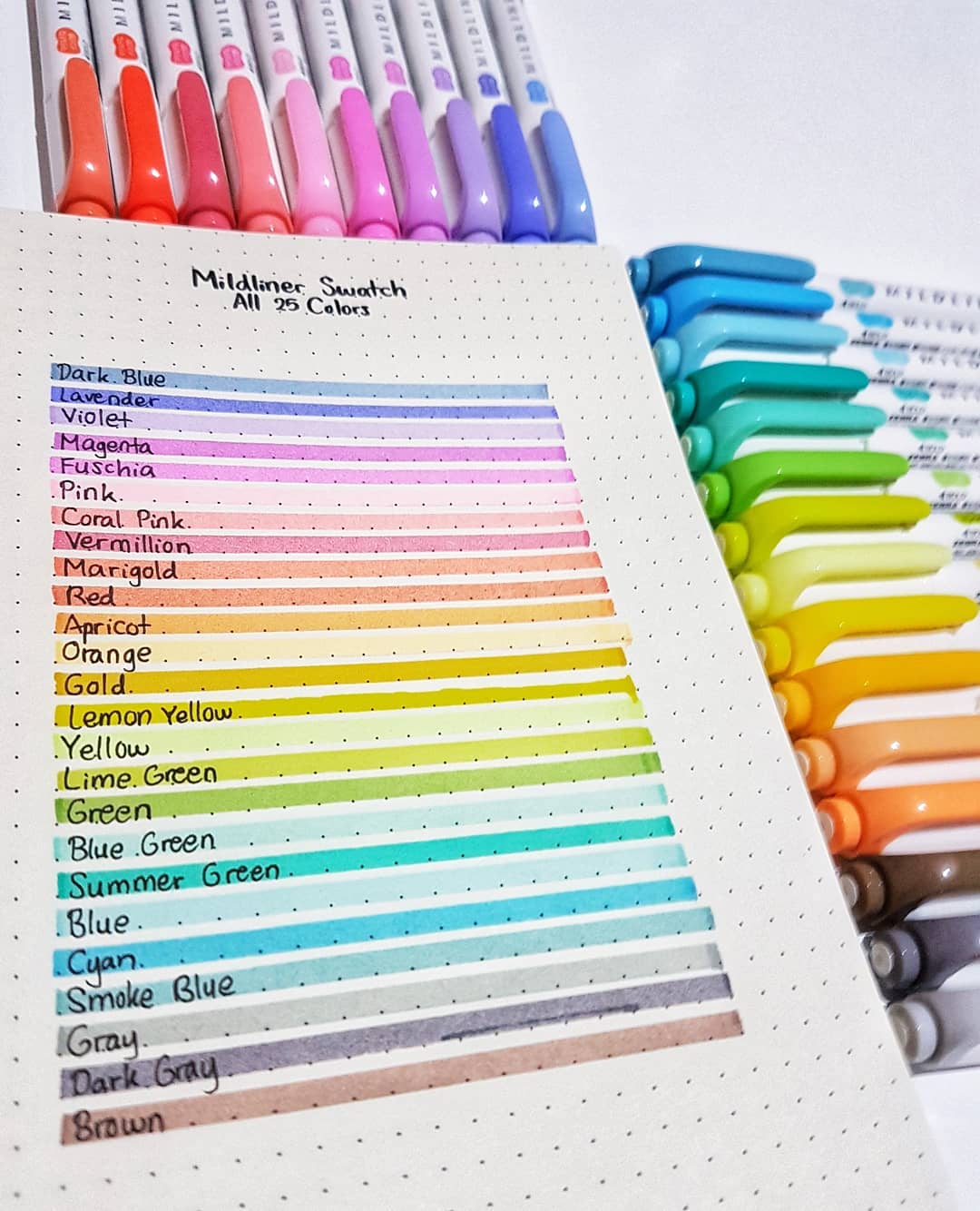 Get yourself a couple of highlighters or midliners and color code everything in your bujo. Assign a specific color in your bullet journal so you can quickly see what you have to do at a glance. I especially love this for future planning because sometimes you want to see what work deadlines are coming up, so you can quickly see all work-related entries in you BuJo at a quick glance.
Although I do love the simplicity of minimalist spreads, I like to quickly see what's going on in my week to ensure I get everything done, and color coding is the best way I have found to do this. It is especially smart to make a key for your colors in the back of your bullet journal for quick reference.


..
#2: Dutch Doors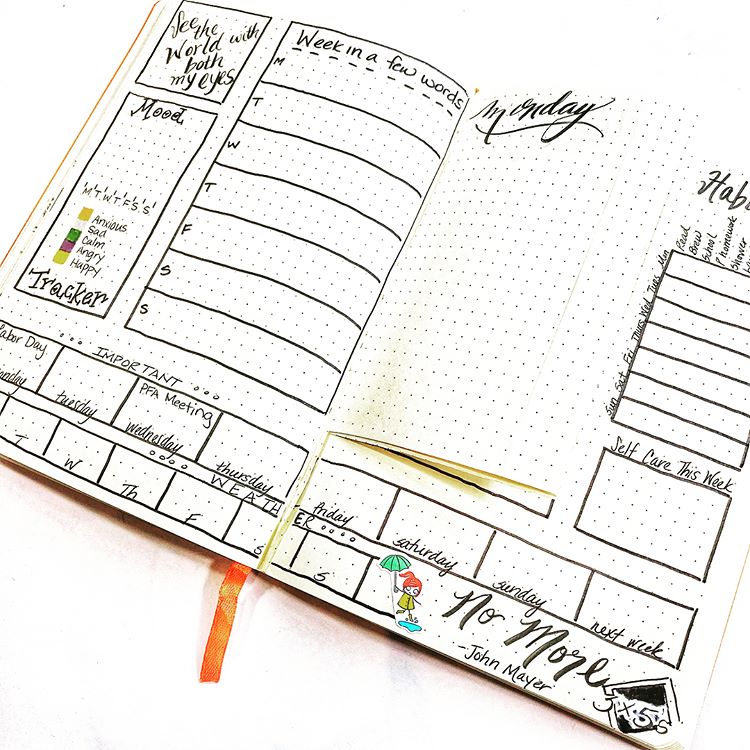 Dutch doors seem complicated but they're actually super simple and great if you want to add more habit trackers to your bullet journal. If you're unclear how to make a dutch door in your bullet journal, all you have to do is cut horizontally (or vertically) along where you want the dutch door to be. Then either pull gently across the spine of the book or use a craft knife to separate the page. And that's it! I love the example above because she has a little dutch door for every day of the week, but the main pages allow her to fully see her trackers and any upcoming events/tasks.

(Scroll to the bottom for an awesome video tutorial so you can make your own!)


..
#3: Use Sticky Notes To Make Use Of Space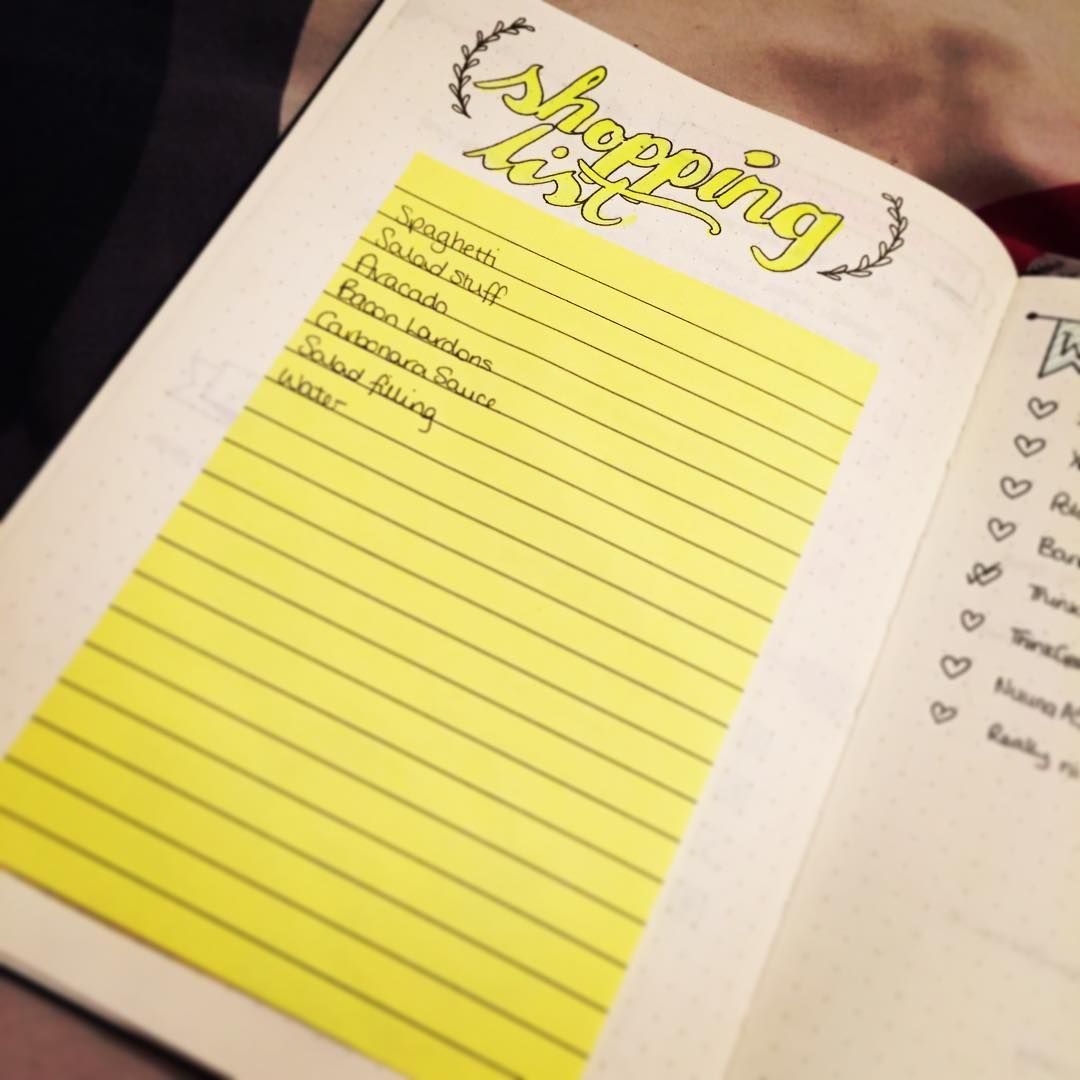 Source: Pinterest
Sticky notes are a great way to maximize space in your Bullet Journal. I have a To-Do list page and a Shopping list page that I always place a new sticky note on at the beginning of the week. It's a great hack because when you head to the grocery store, you don't have to take your whole bullet journal with you, just take the sticky note and voila!


..
#4: Use Washi Tape on the Edges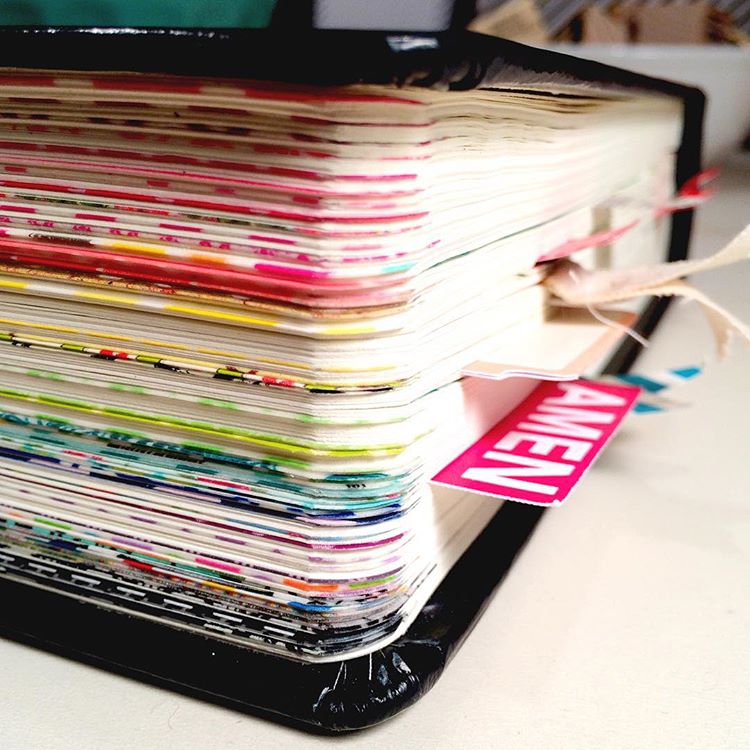 Washi tape is great for using on the edge of pages to highlight and bookmark! Mark important pages, such as birthdays. I like to assign one washi tape to an entire month, for example, April would be blue, so I know to flip to it quickly. Washi tape is quite cheap and there are many uses for it.


..
#5: Or Make Little Bookmarks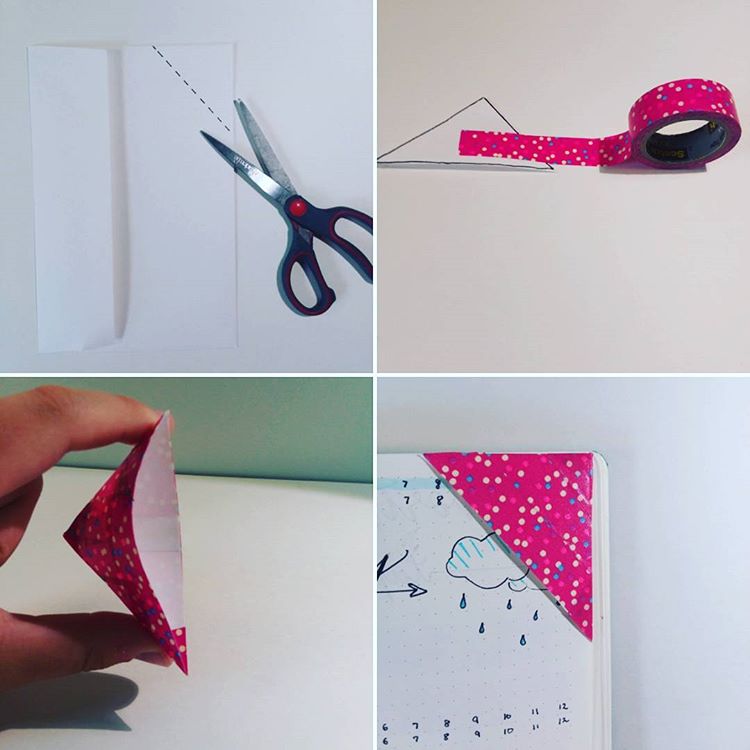 Check out this super simple DIY to bookmark your pages. Its the perfect little tool to keep track of your monthly, weekly, or daily spreads. Use a variety of washi tape to have unique bookmarks and find pages quickly (plus more washi tape equals more fun).


..
#6: Use White Gel Pens to Cover Mistakes
You're likely going to make many mistakes when you first start your bullet journal. Strike that. Even if you're a pro, you'll make little mistakes in your bujo you'll want to cover up. Use a white gel pen to cover up any and all mistakes. Simply write over the mistakes with the white pen and once it dries, you can write over it again. It's like whiteout, but prettier and more functional (IMO).


..
#7: Always Have Your Pen
Always have your pen with you on the go, simply use the little elastic band the bullet journal provides. Sling the elastic band across your bujo diagonally and clip your pen for on the go. You'll always have your pens handy and have no excuse not to write down things immediately, thus keeping you organized.


..
#8: Make A Fold Out Key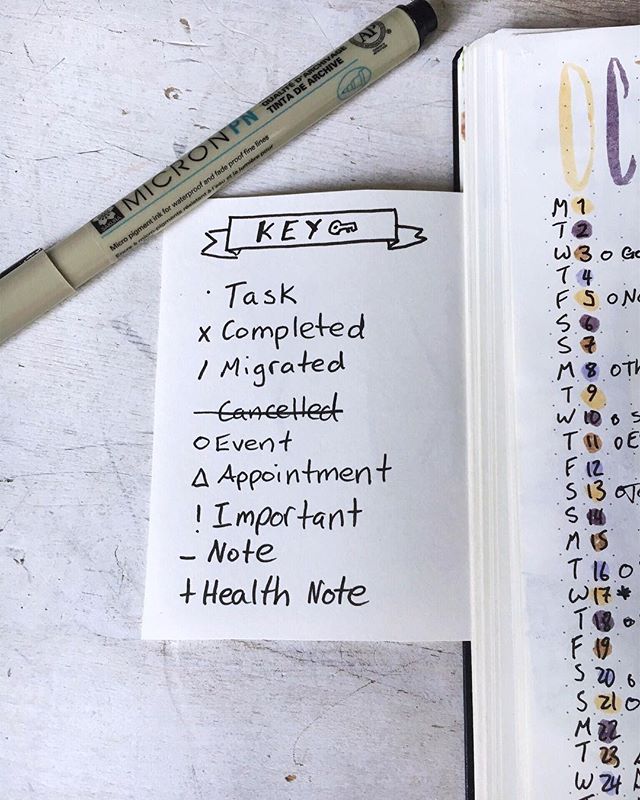 Stop flipping to the front searching for your key with this simple and clever hack. There a re a couple of ways you can go about mqaking the flip-out key for your bullet journal, but my favorite is just getting a sheet of paper and sticking it to the edge of the page with washi tape. Decorative and functional!


..
#9: Tape in an Envelope
I love this idea because it gives you extra storage! Just tape your envelope in with (you guessed it!) washi tape and place anything your heart desires in there. I love putting motivational quotes or even things like tickets and such.


..
#10: Have Fun
Not quite a 'hack,' but I know sometimes starting a bullet journal can be intimidating because you see so many great BuJo's online. However, this is YOUR personal planner and it doesn't matter how it looks like, nor does it need to be perfect. In fact, I encourage you to make mistakes and try out new styles of journaling. Rip out papers, use white out, cover it up with washi tape (yes, I'm obsessed!) and don't stress out. Bullet journals are supposed to be 1. fun and 2. functional. If you get stressed over your planner, you won't use it and it will negate its purpose.
Nifty Little Video If You Want To Create Your Own Dutch Door
Do you have a bullet journal? Will you be giving any of these hacks a go? Comment below! I love to hear from you guys