Need some inspiration for a new Bullet Journal Weekly Spread? Here are 30 examples for you to try out and make your own.
If you don't know what a bullet journal is, consider reading this post first to get started
Best Tools For Bullet Journaling
Before we dive right in, I want to mention the tools I have found and use for Bullet Journaling. If you're just starting out on your BuJo journey, these are the tools I wish I had purchased at the beginning instead of overpriced books and markers that 'professional bullet journal-ers' recommended me.
That's it. And to be completely transparent, I only use the markers and stencils a couple of times a month, when I set up new pages, or am bored and want to decorate. The bread and butter of a bullet journal is simply a pen and a notebook you carry with you regularly. Don't get too crazy in the beginning as you figure out what pages do and don't work for you.

Bullet Journal Weekly Spreads


Colorful Boxes for your Weekly Spread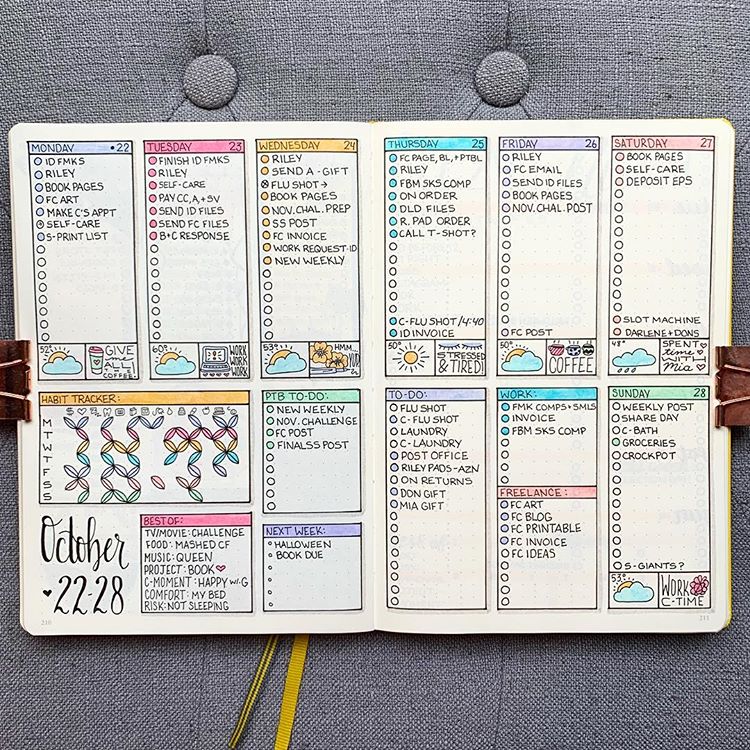 This spread is lovely because it includes everything you could possibly need. Weather, habits, and general to-do's.
A Bujo Fall Theme Spread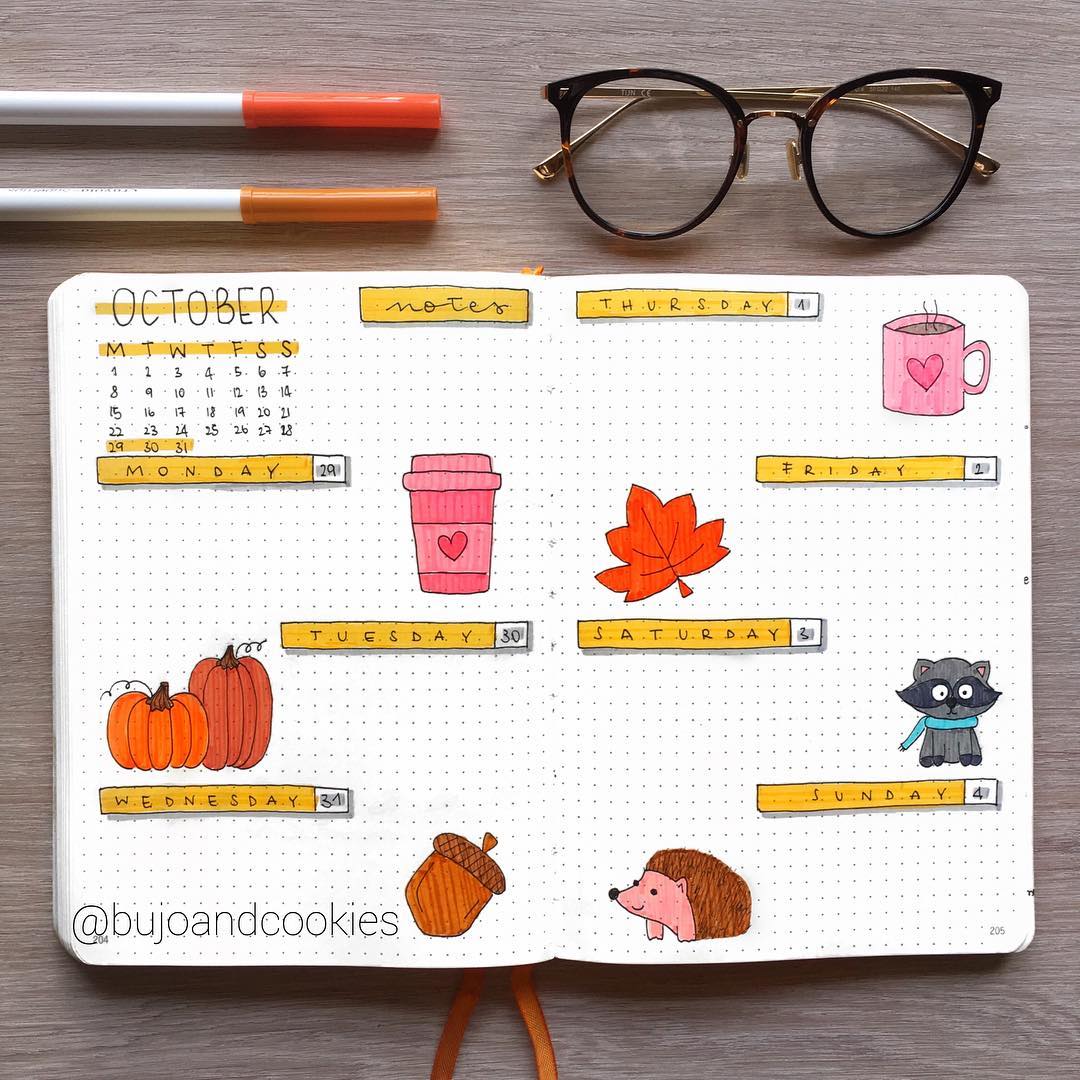 Just makes me want to stay home with a cup of cocoa, a good movie, and doodle.
Colorful Minimalism Bullet Journal Idea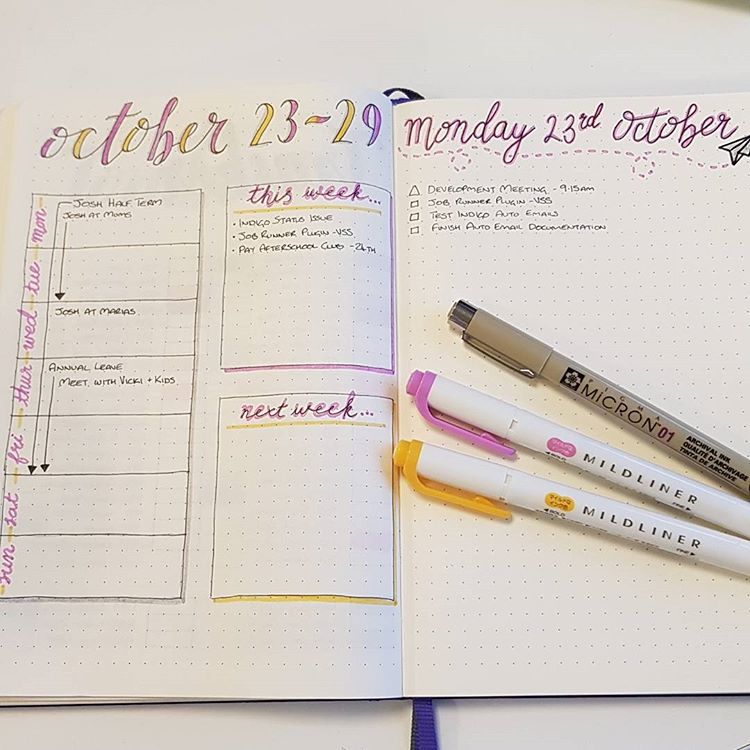 Is colorful minimalism a thing? Because that's how I would describe this spread
Harry Potter Bullet Journal Spread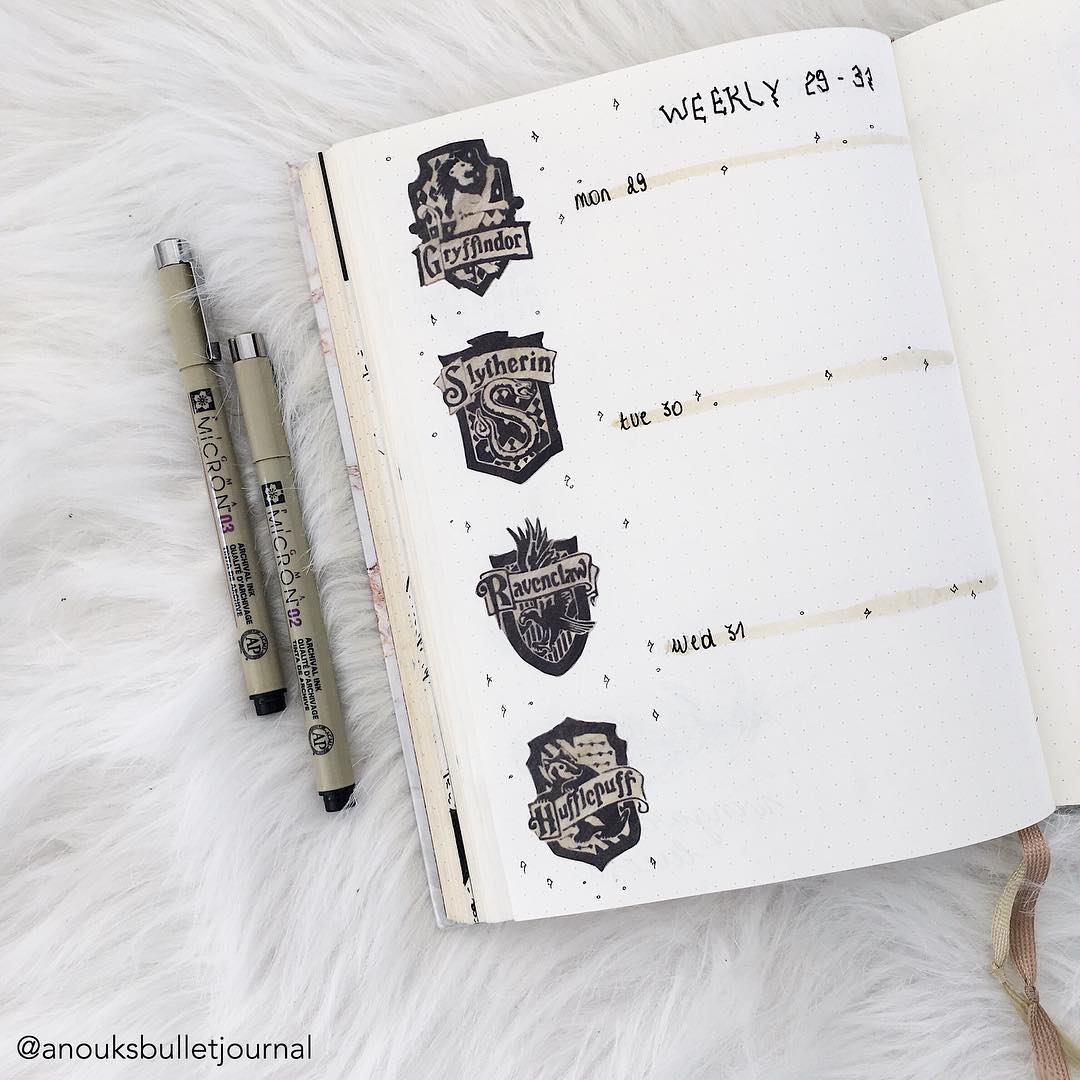 Anything Harry Potter is a win and this spread is absolutely beautiful.
Simple Lines Bullet Journal Weekly Spread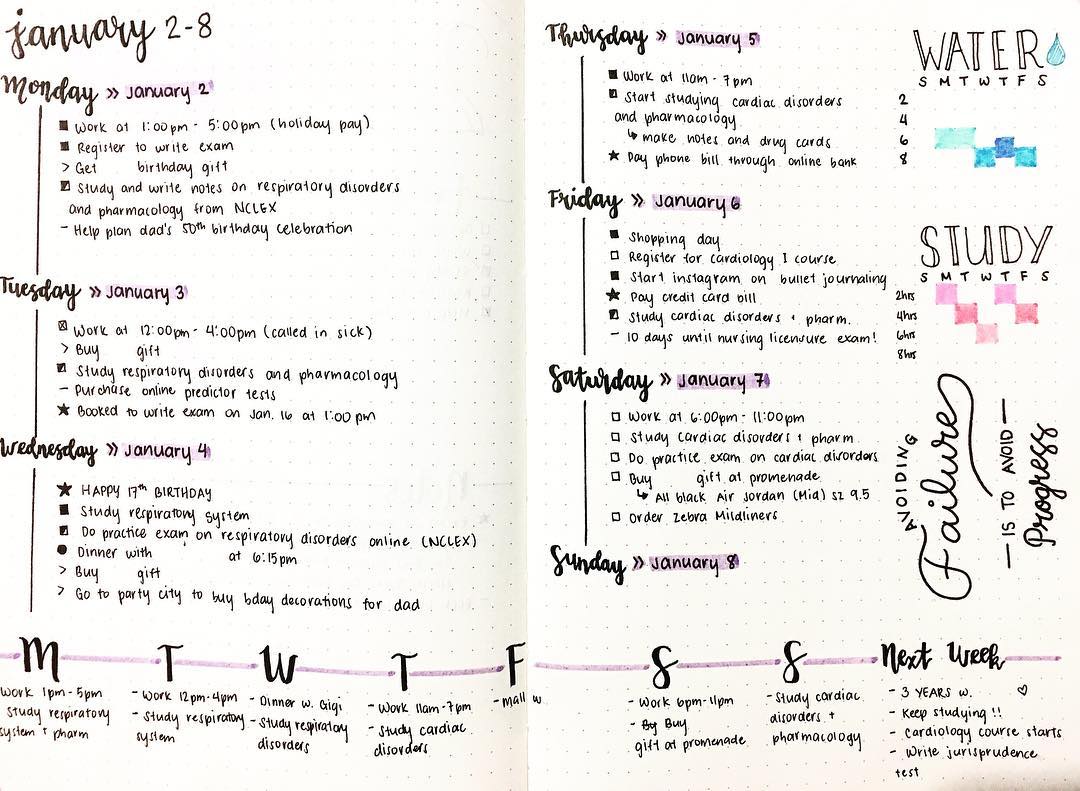 The 'Next Week' spread at the bottom is also genius so you can plan for this week while keeping track of what's coming up in your bullet journal.
Autumn Tree Cycle Weekly Spread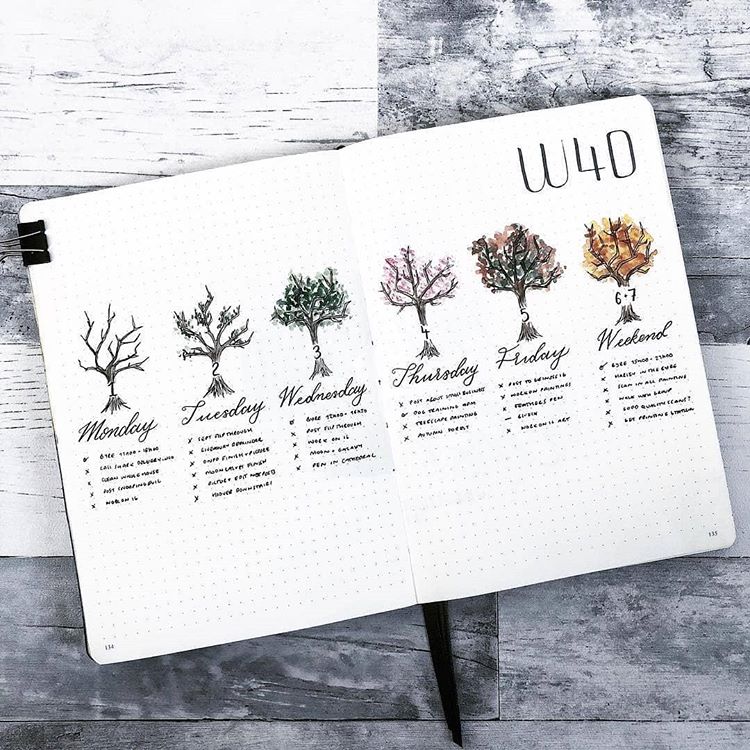 I've always loved autumn, call me basic, but the weather changing, cocoa, scarves, everything! And this minimalist spread just gives me so many feels.

If you like this, you'll love this post on 24 Minimalist Spreads 
Bujo/Scrapbook/Collage/All Of The Above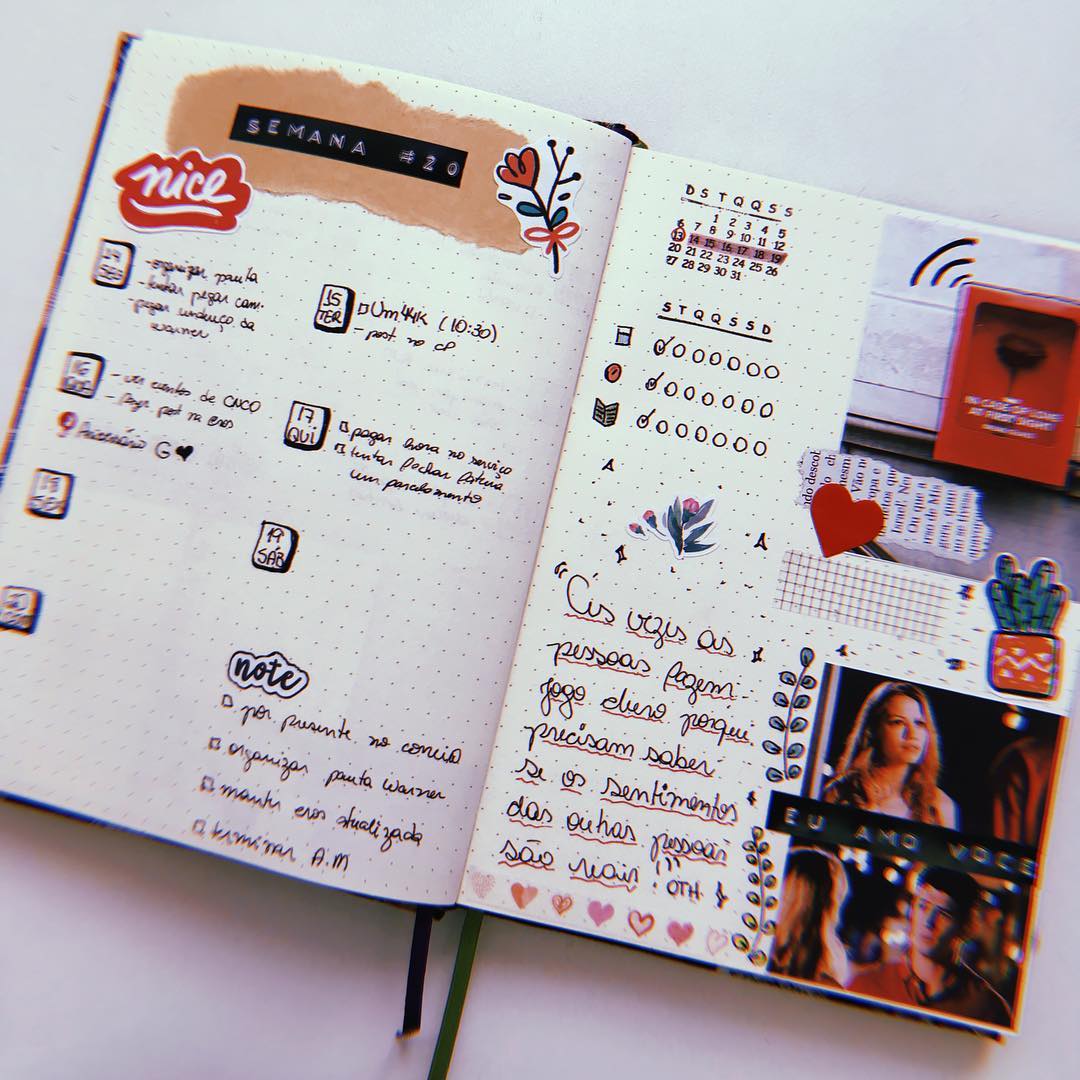 Place stickers, cut out pages from magazines, let your creativity out. A Bullet Journal isn't so serious! Have fun!
Clean Box Bullet Journal Spread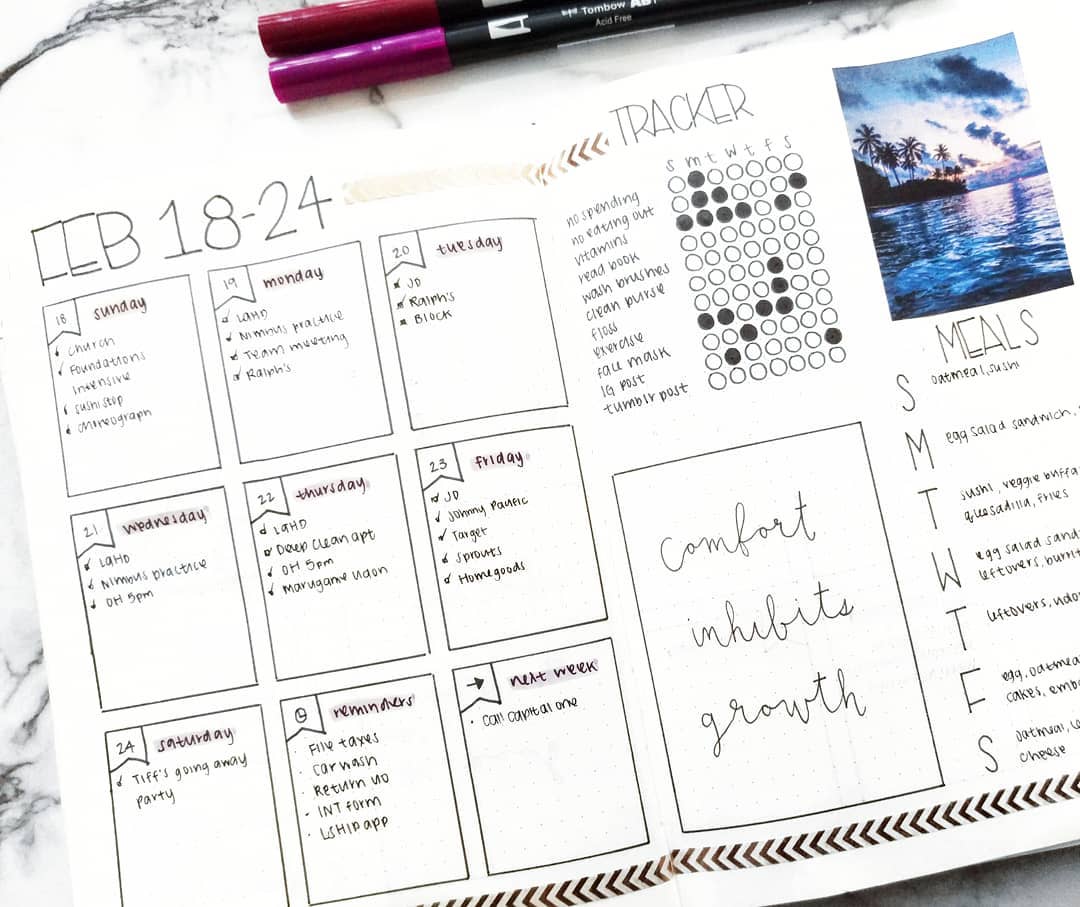 Such an aesthetic and functional spread.. I can't think of anything that's missing on this one.
All On Top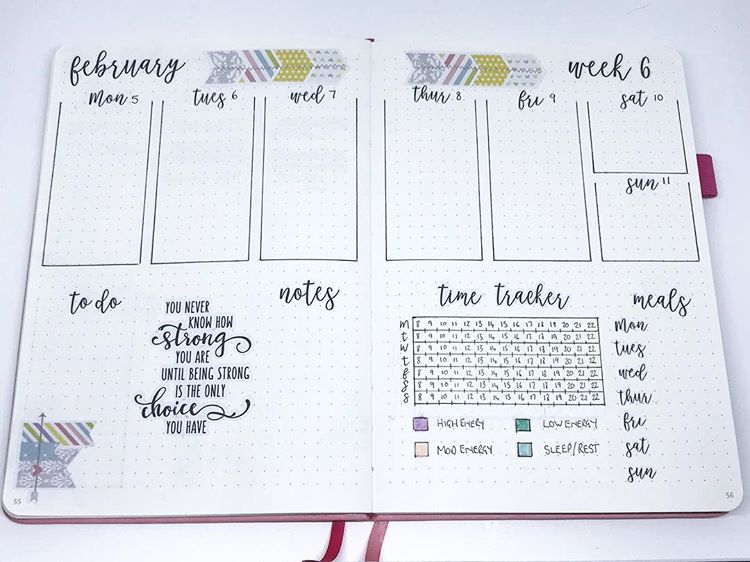 Putting your week at the top leaves you space for notes, habit, and even motivational quotes!
Simple Line Weekly Spread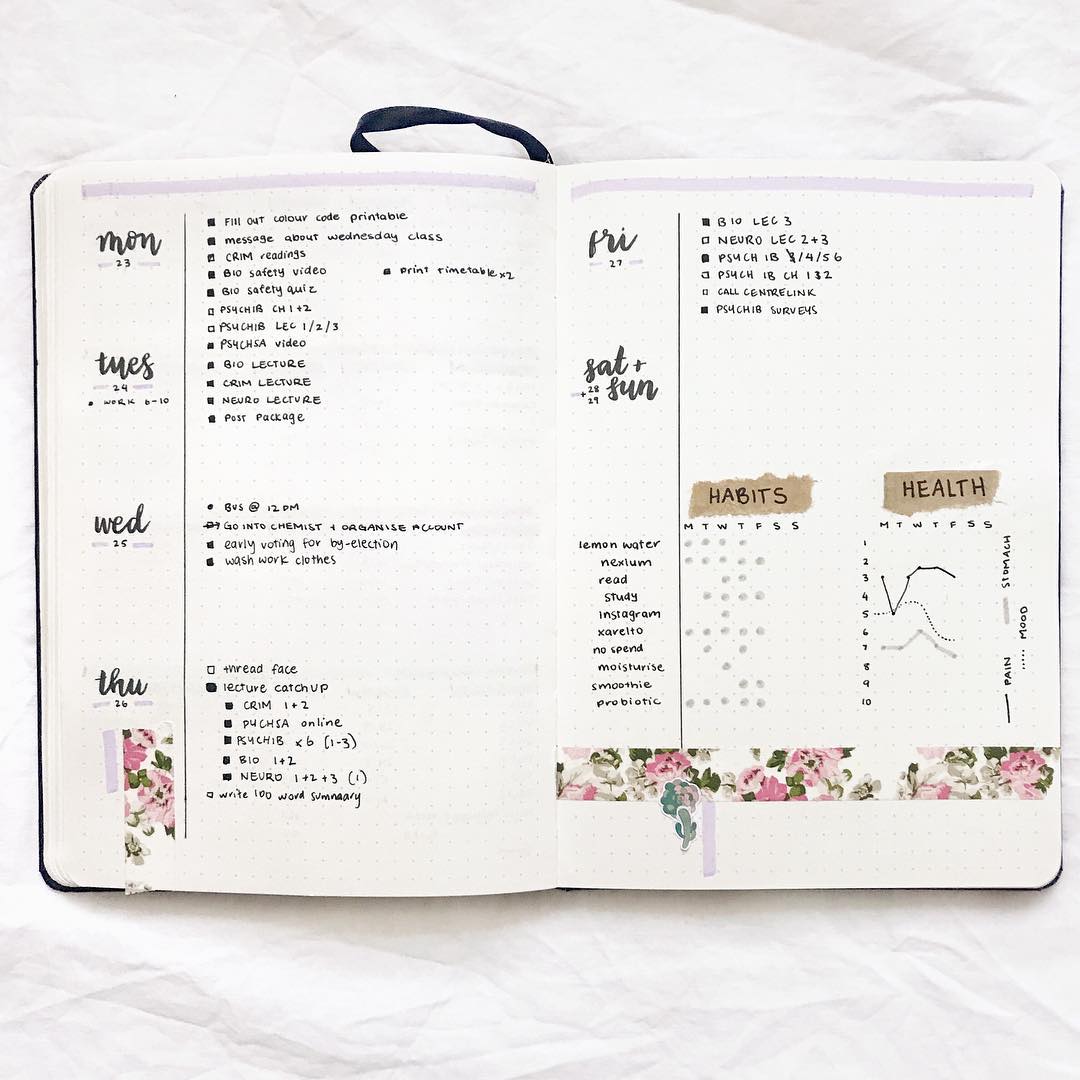 Clean, crisp, and little touches of feminity with the washi tape.
Circle BuJo Spread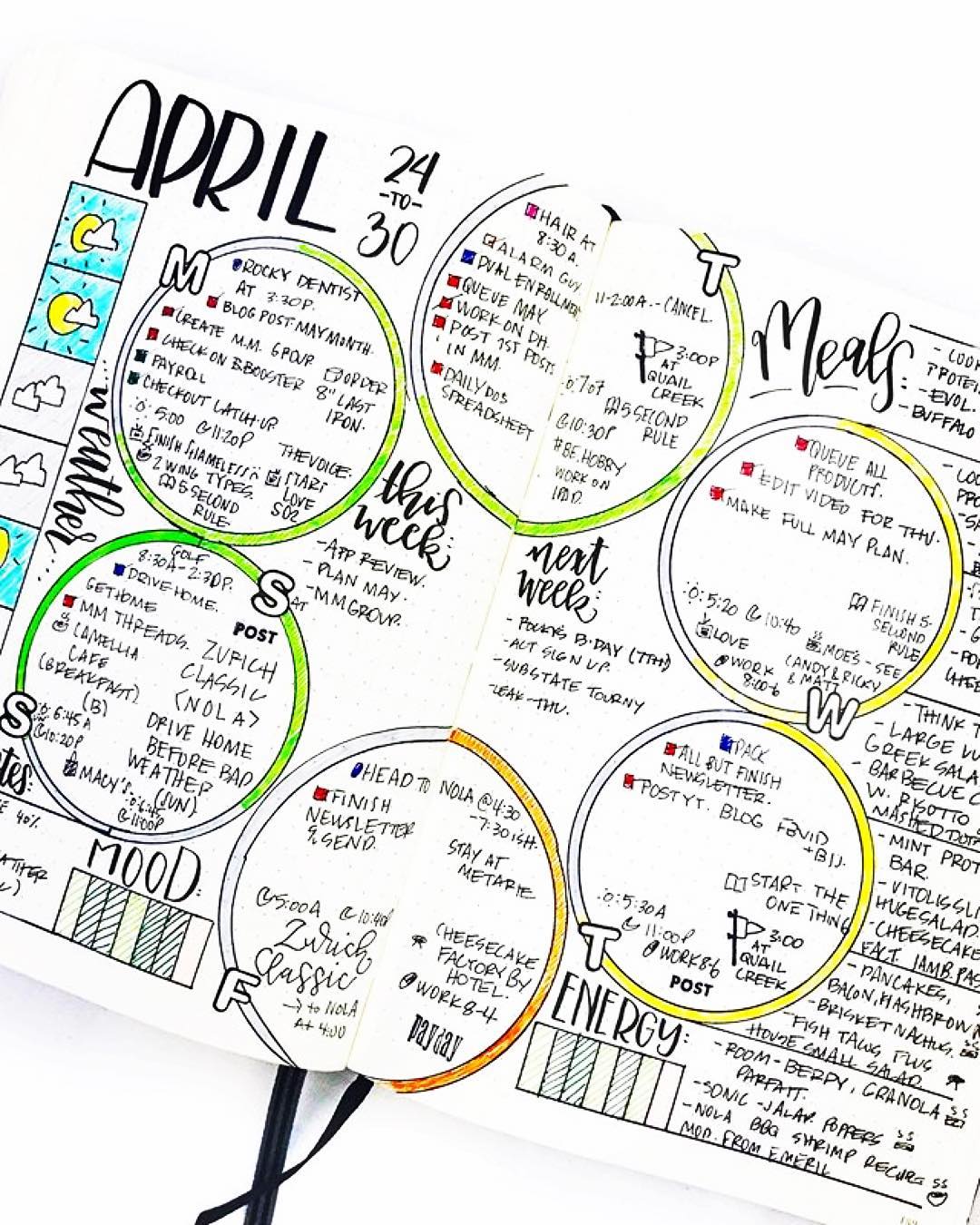 Completely different from the ones we've seen so far, just goes to show you can make your bullet journal 100% your own. There are no rules or guidelines.
Boxed In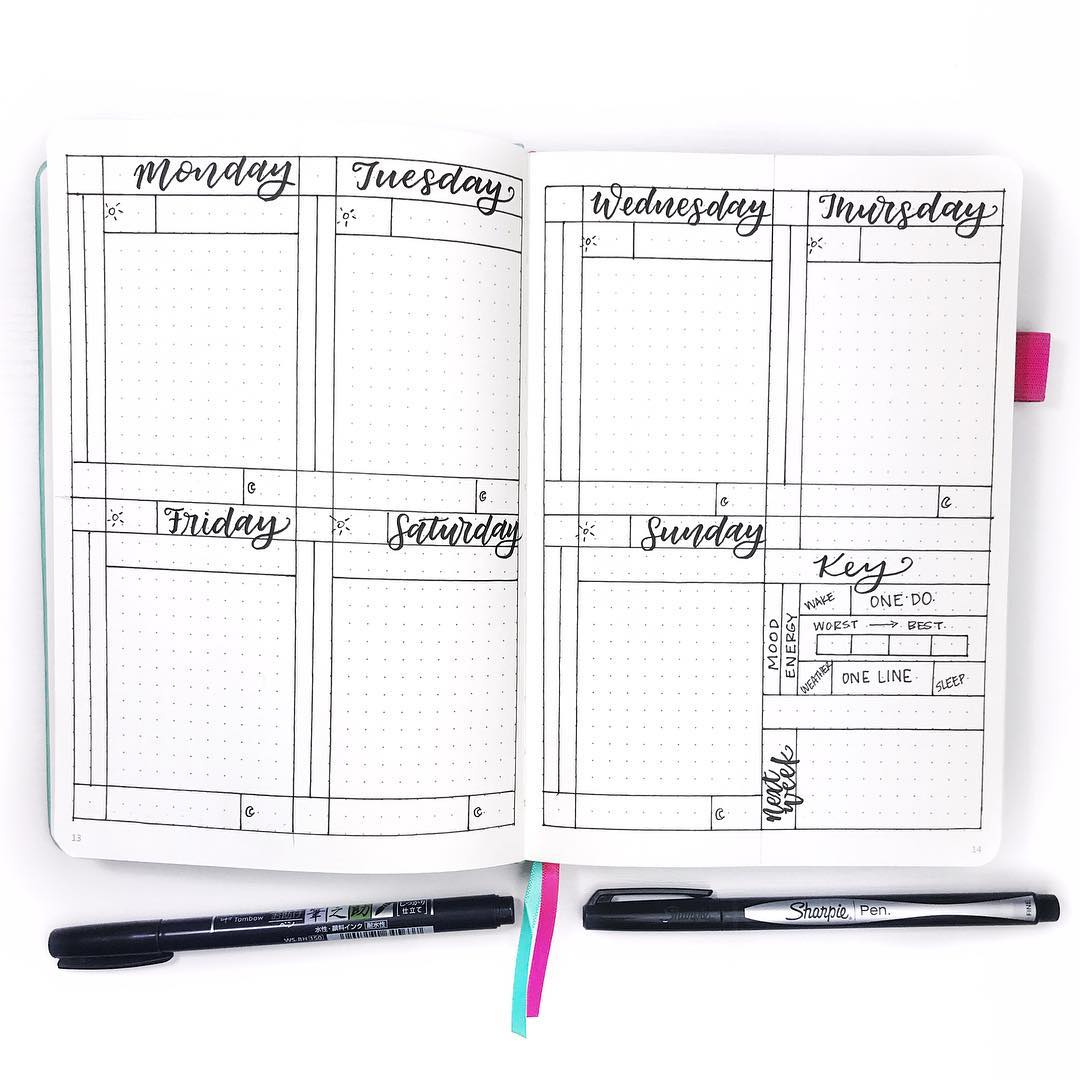 The same BuJo artist that did the circles did this spread as well. Mix it up and try different spreads in yours until you figure out what works and doesn't.
Weekly & Daily Spread Bullet Journal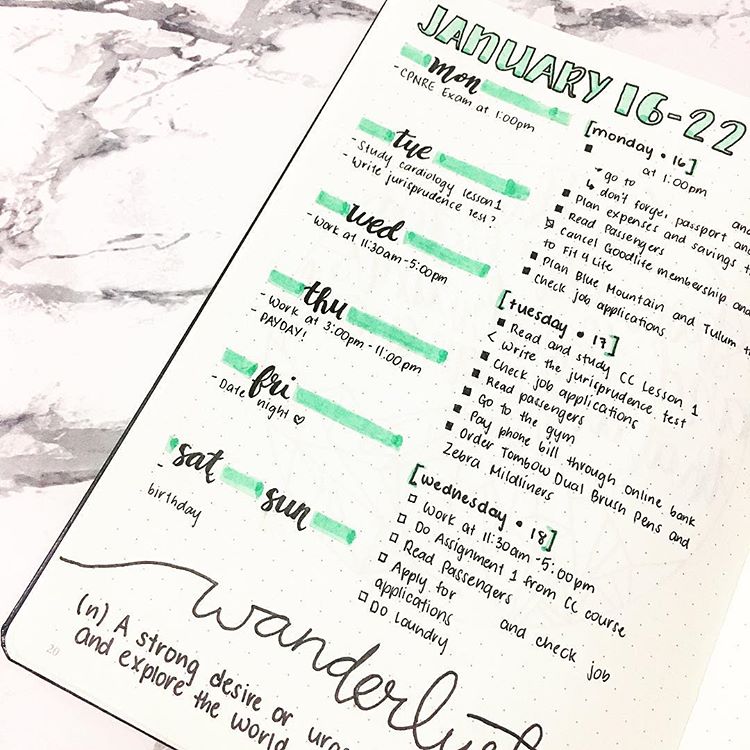 This one has the weekly spread in the corner and the dailies to the center. It's a great idea to be able to do your daily tasks while visualizing your week.
Boxes and Beautiful Designs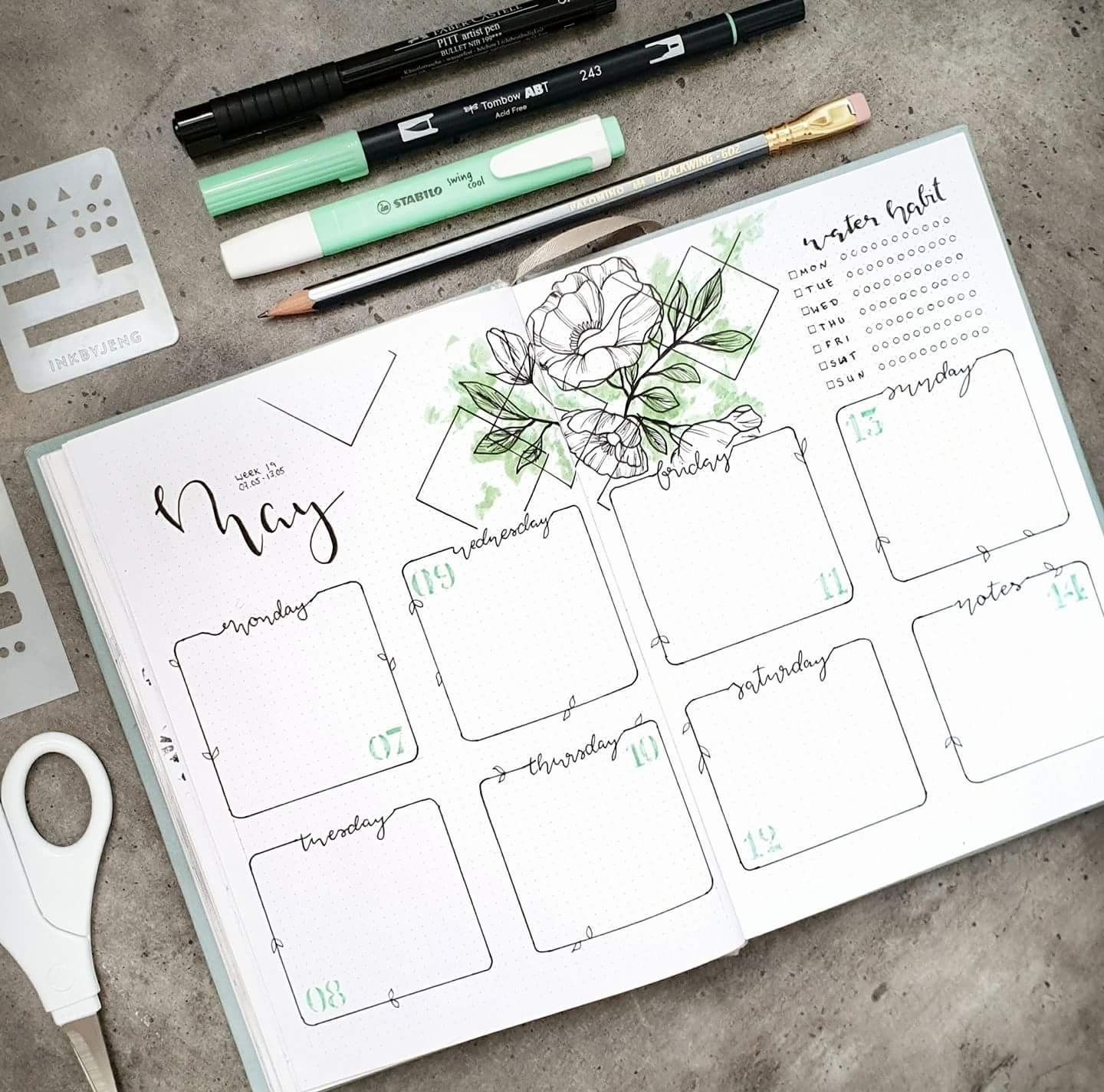 source: unknown
This spread just makes me feel like everything is right with the world! It's so beautiful and delicate. I know I could never recreate it though, perhaps you would have better luck.
Underwater Spread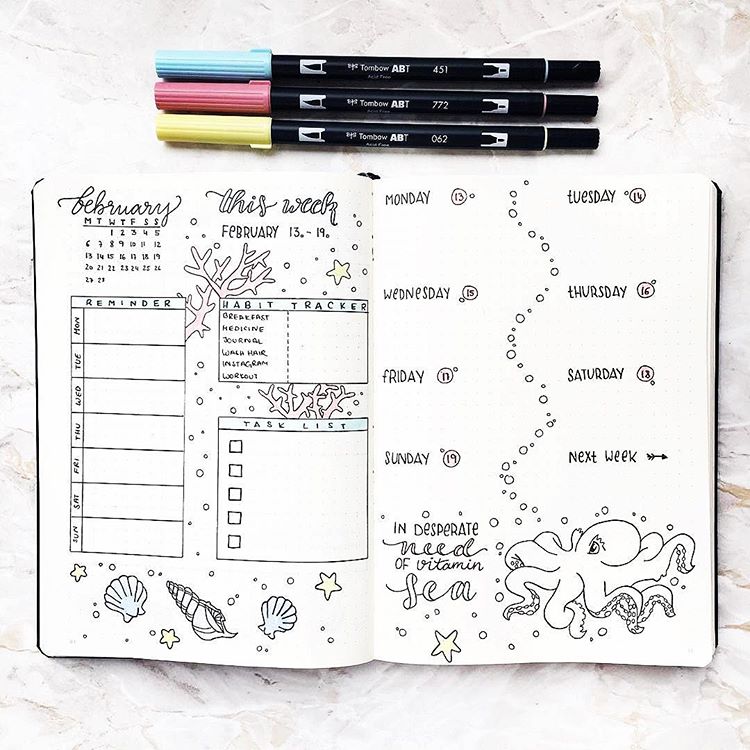 #Goals. I really don't have any words for this one. It's beautiful and functional.
Minimalist with Pictures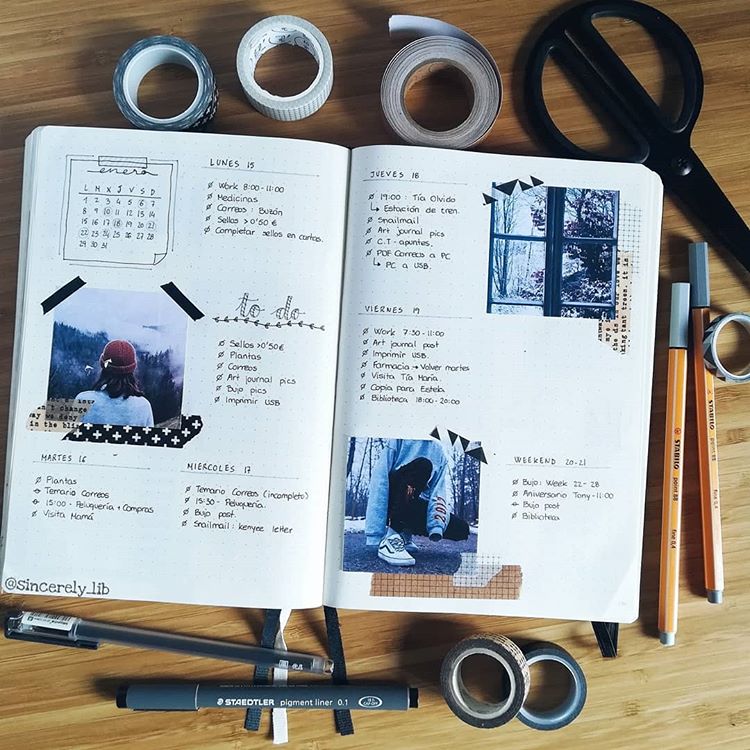 I think one of the greatest things about bullet journals is the sentimental value they present. There are a lot of opportunities to place pictures and memories from a week into a BuJo.
Clean Boxes with Room For Habits and Meals In Your Weekly Spread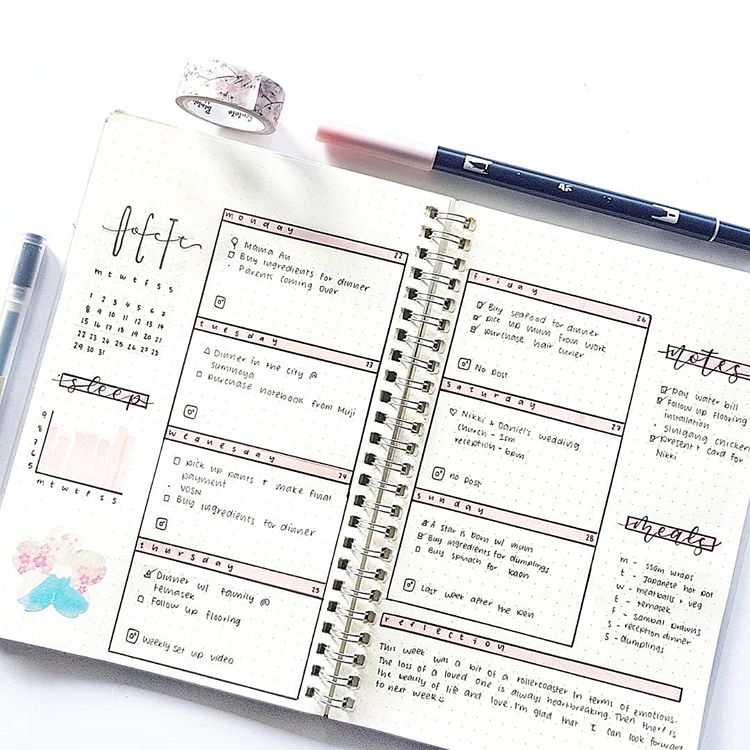 I love this spread. It has a small glimpse of everything and anything you would want to track while keeping it beautiful and aesthetic.
One Page Minimalist Spread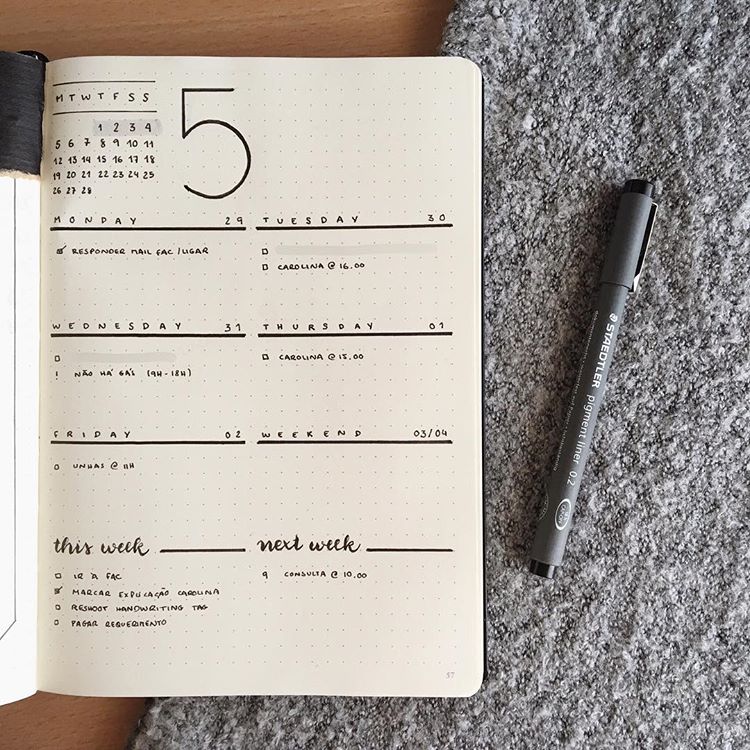 Although most weekly spreads use two pages, you can very well fit the whole week in one.
Boxes for Priority, Work, and Other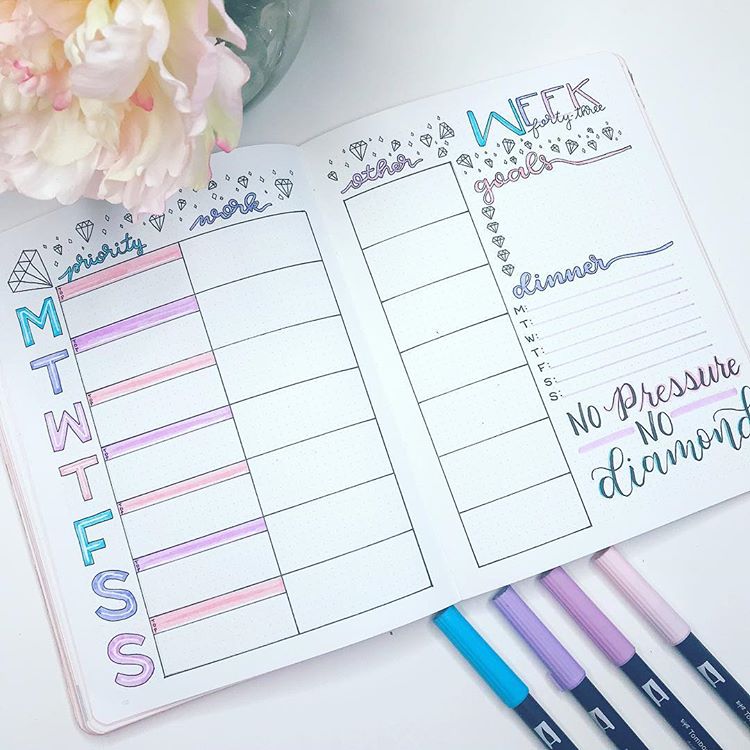 Most things fall into these three categories and you can quickly see what is absolutely mandatory you get done on that day.
Classical Spread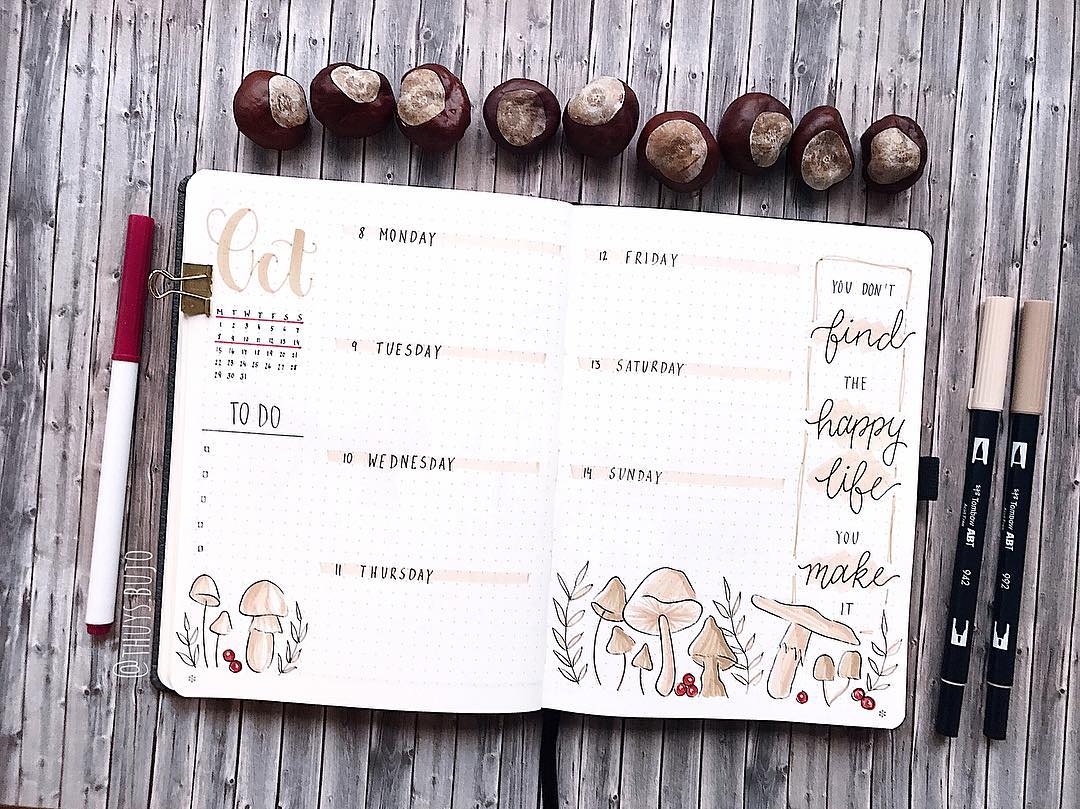 Vertical Lines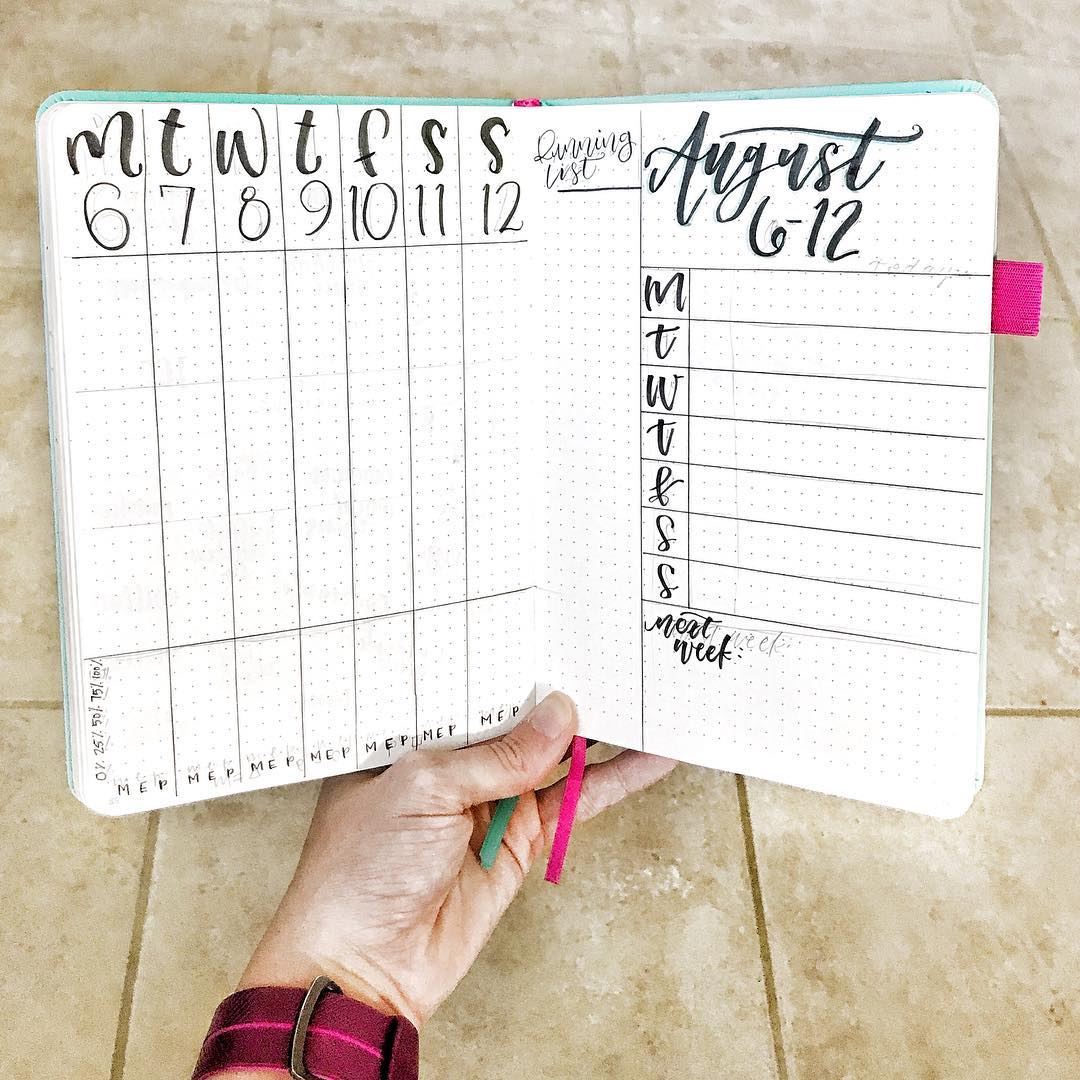 Lots of options here for to-do lists and keeping track of what's done and what's pending.
Pink and Feminine BuJo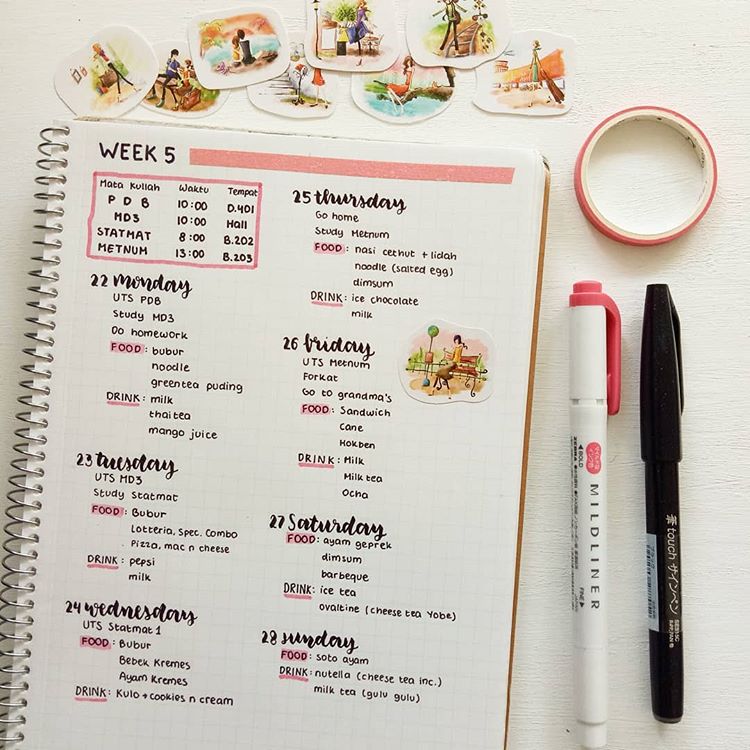 Doodles and Calligraphy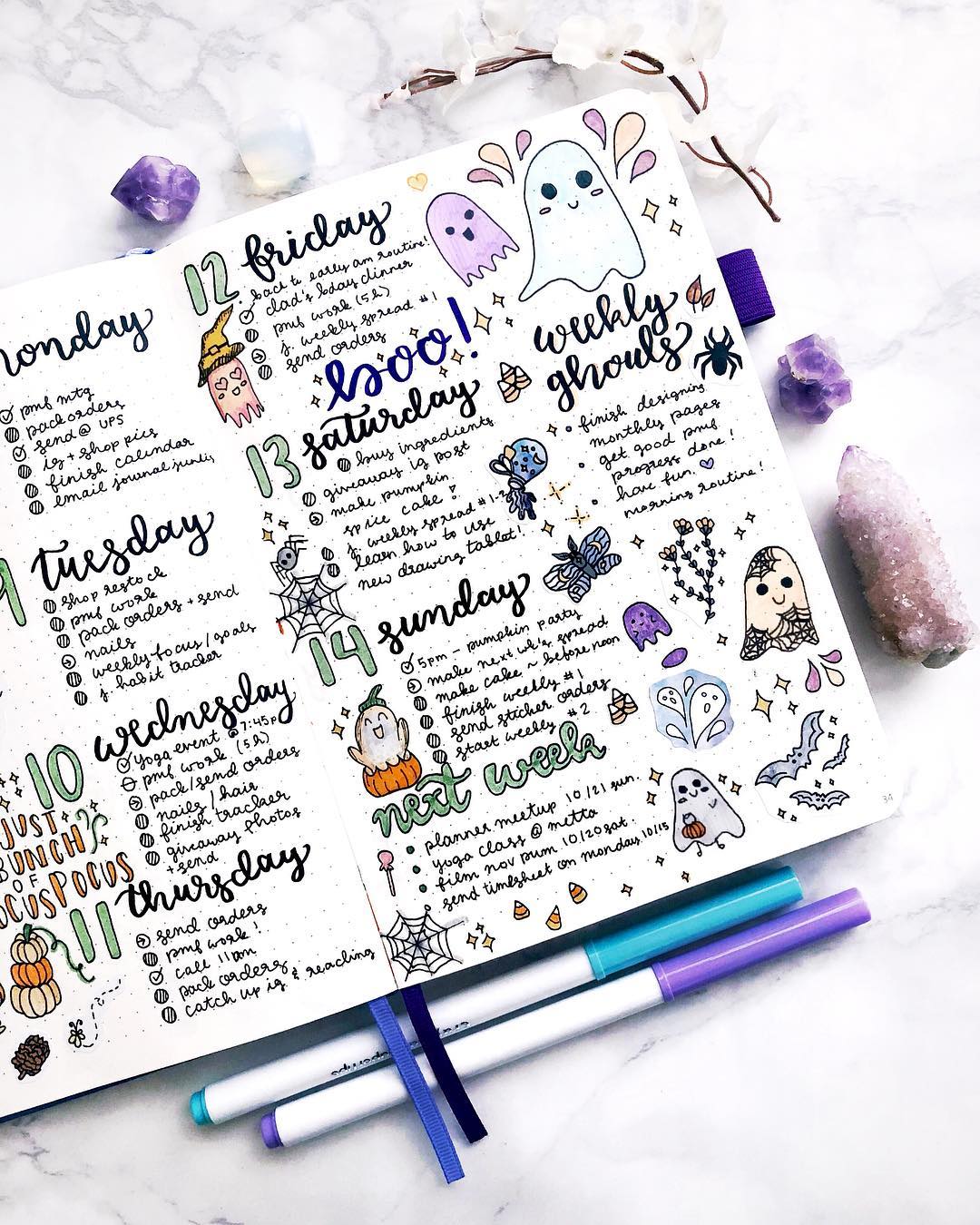 I'm just such a huge fan of doodles! Use your BuJo to let your creativity out.
More Mixed Media Journaling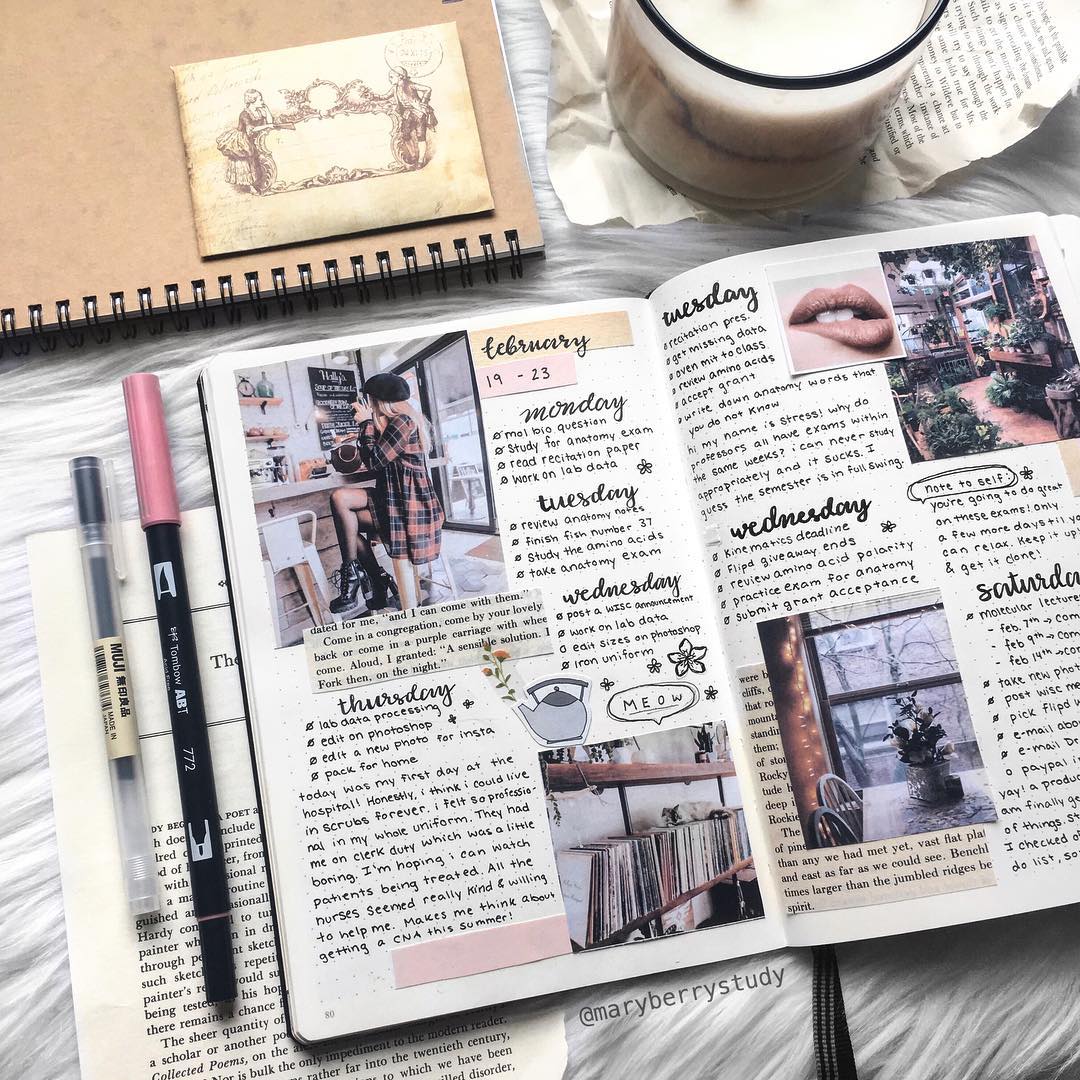 A bullet journal can serve as a diary and memory keeper. Let your creativity flow!
Go Crazy with Stickers and Washi Tape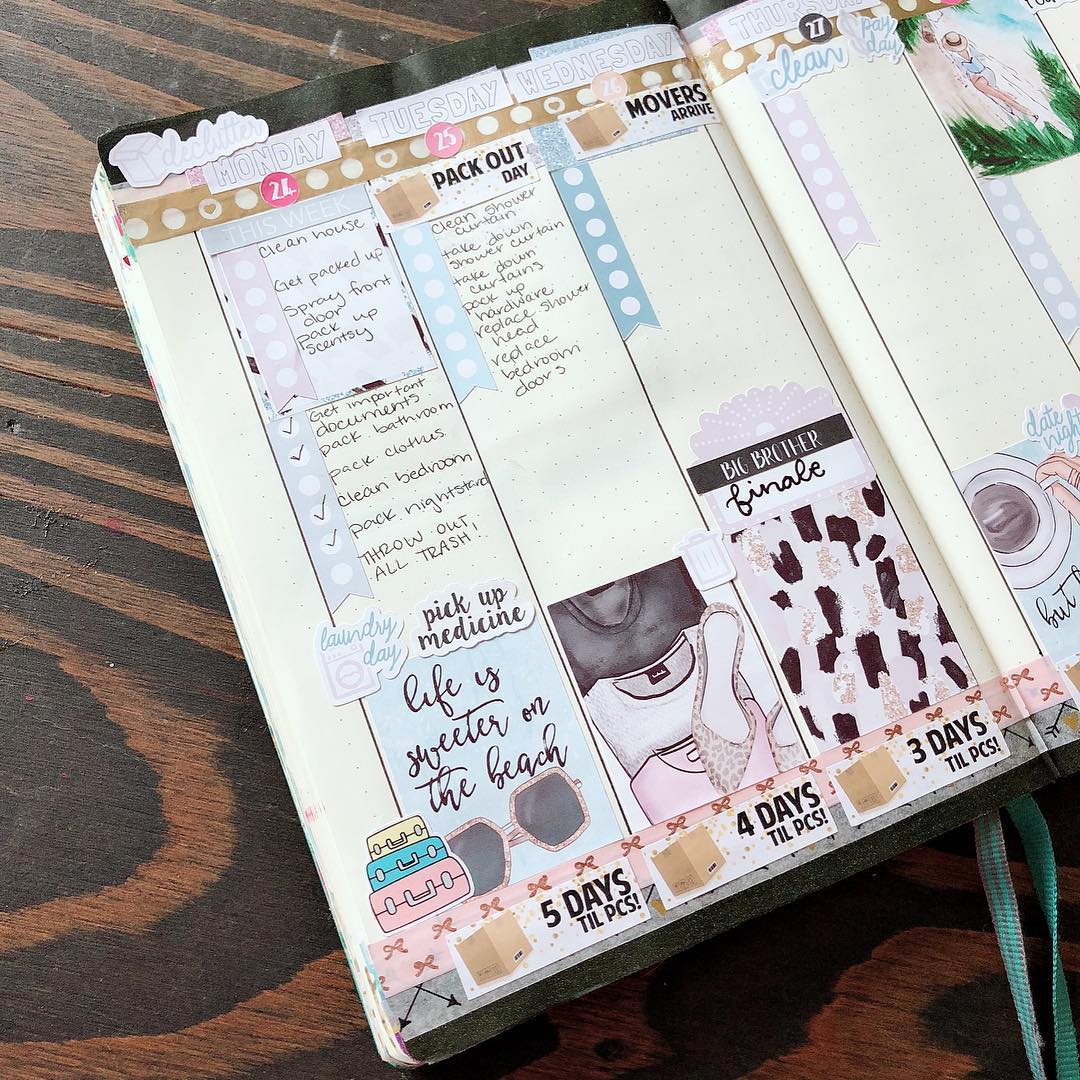 You can never overdo it with washi tape.
Boxes and Flowers Bujo Spread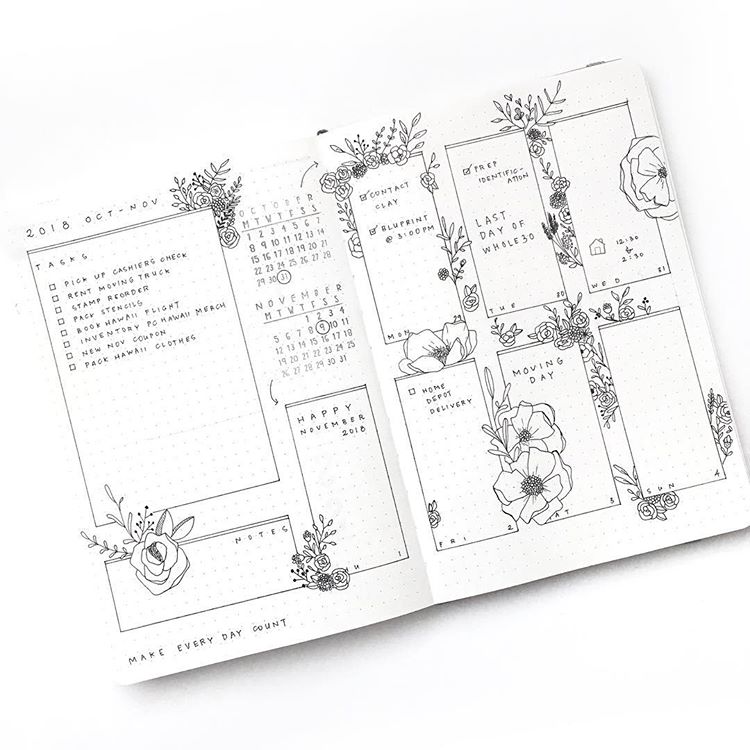 The amount of details in those flowers! Just jaw-dropping.
Recreating this weekly spread bullet journal would be so much fun!
Try Side-By-Side Weeklies in your Bullet Journal Weekly Layout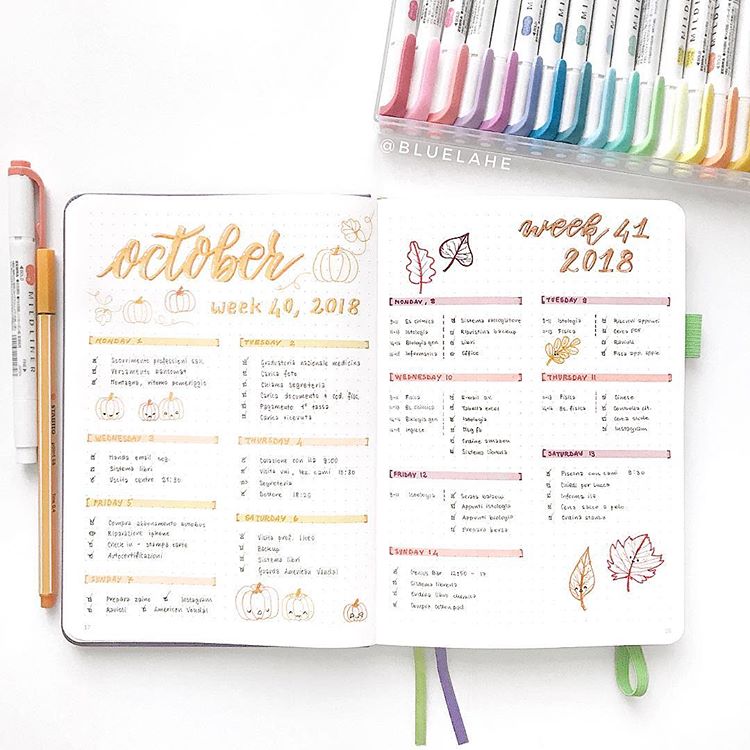 If you like to plan ahead, these two weekly spreads are a great idea for you. Easily see any upcoming due date and plan accordingly
Clean and Crisp, Minimalist Boxes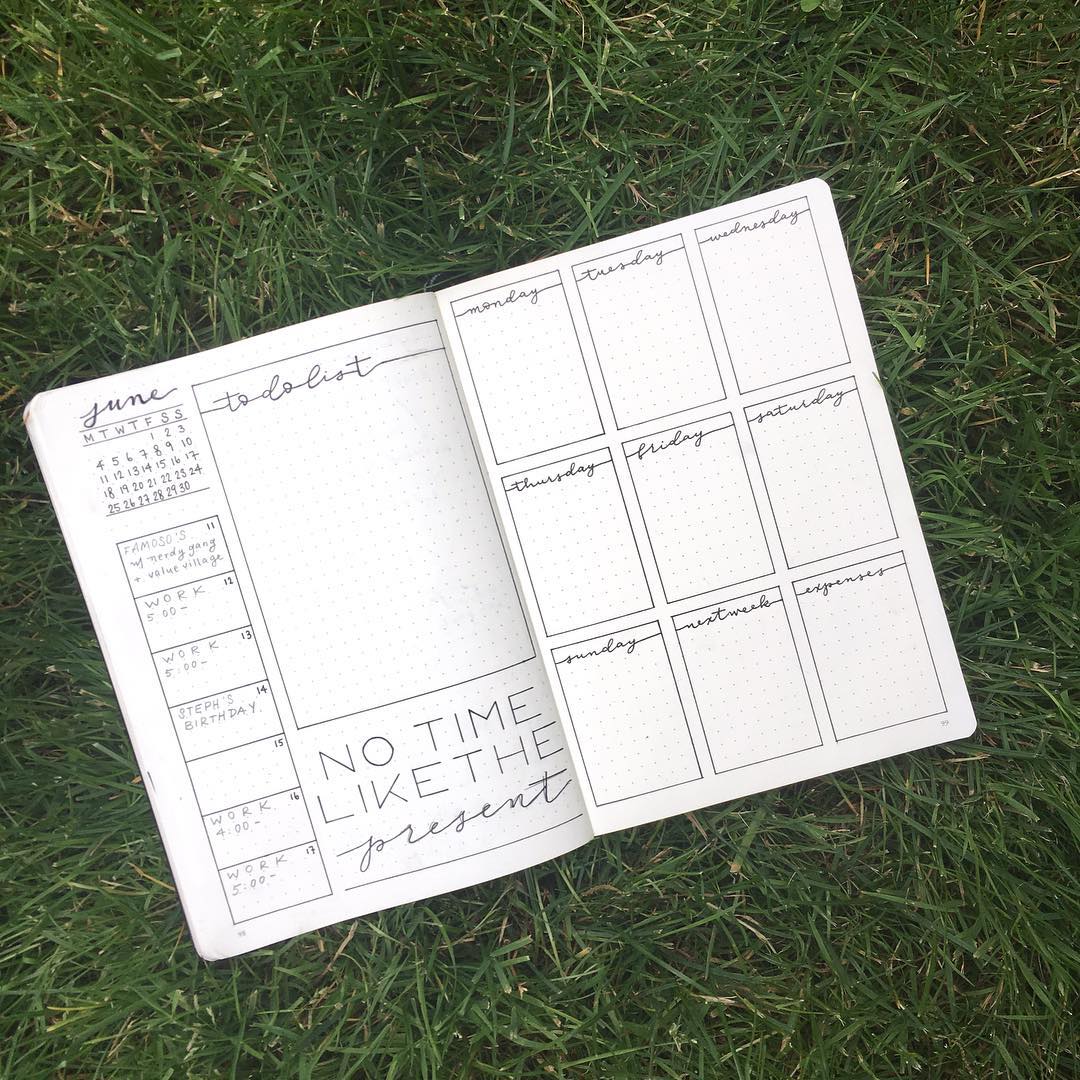 This one's easy to duplicate and a great 'starter' spread.
A Box For Everything in this Bullet Journal Weekly Setup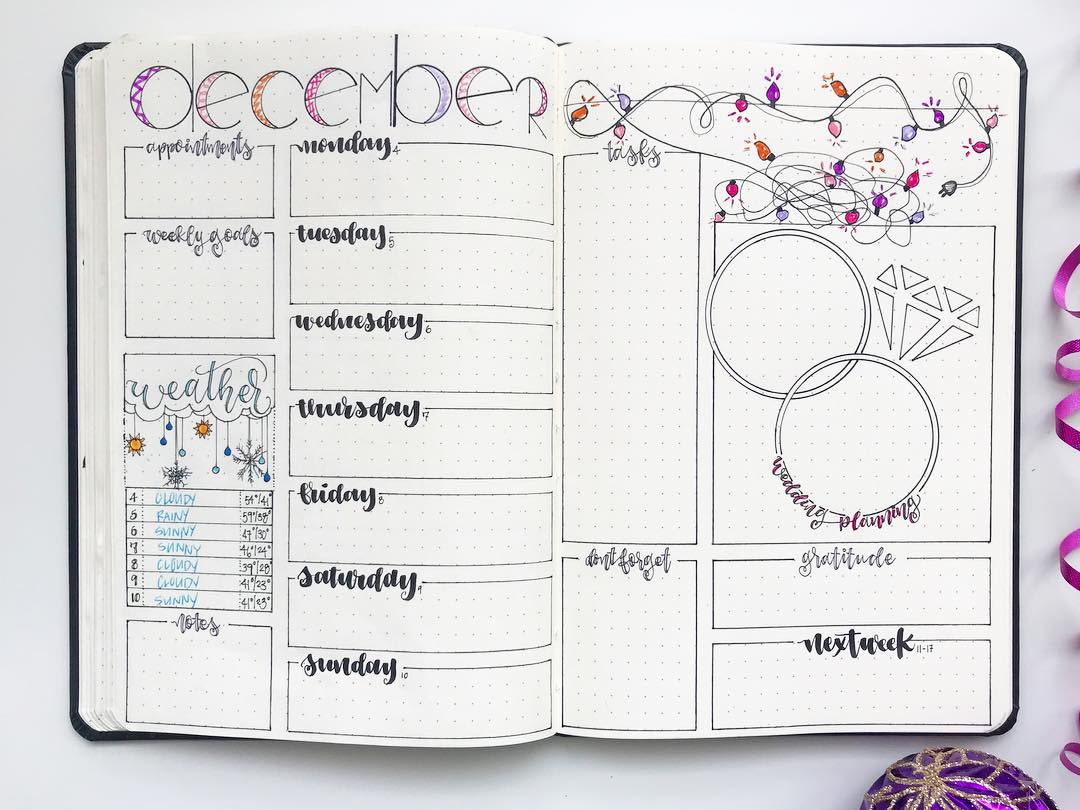 I love this one, it has weekly goals, appointments, notes, and even a gratitude column. Erin honestly thought of everything in this bujo weekly spread!
Clean Boxes with Light Blue Bullet Journal Spread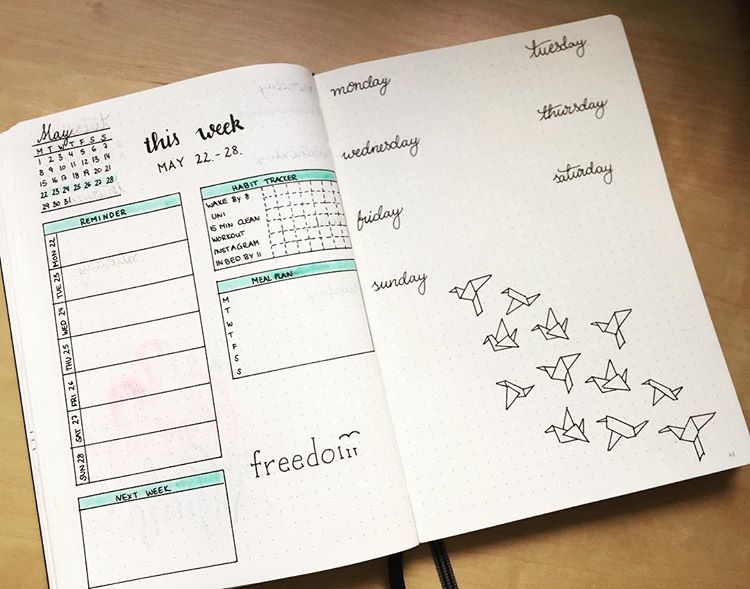 I love the subtle touches of baby blue in this weekly spread bujo. Plus the fact there is room to doodle is a nice benefit.
What weekly layout bullet journal spread will you be recreating?!
….