97+ Bright Summer Nails To Heat Up The Season (SERIOUS SIZZLE!)
Goodbye winter blues! Summer is here and that means sunshine, sandy beaches, and tiny bikinis.
And nothing pairs better with the perfect summer fit quite like an amazing set of bright summer nails.
The right summer nails will add a pop of color to you beach day outfit or help you rock that trendy dress on a night out.
I feel like the summer season is THE BEST time to experiment with nail designs.
Some summer nails are timeless, like nude nails, but some are constantly changing and evolving. This year is no exception!
Whether you're looking for bold and bright colors or delicate, natural nails, the options are endless.
Whether you're spending your days tanning by the pool with a margarita (guilty!!) or at the hottest rooftop bar, get ready to turn some heads with some of these gorgeous nails.
What Nail Designs Are Good For Summer?
Bright nails are usually trendy in the summertime! Some styles that will make you look chic in summer include floral nails, tropical nails, rainbow nails, pastel nails, and neon nails.
You can try out these nail designs on any nail shape like coffin, square, stiletto, and oval.
Summer really is the perfect time to experiment with fun, bright, and bold nail designs!
Try different colors, patterns, and designs. Get creative!
Whether you go for bright colors, beachy vibes, or fun patterns, you can't go wrong. And besides, it's not permanent and it should be fun.
Pick any design you vibe with and show off your cute summer nails!
Flowery Summer Nails
Flowery nail designs are one of our favorite summer nails because they depict the season so perfectly.
Summer is all about flowers blooming and lots of colors around us, so why not showcase it on our nails as well?
Here are some gorgeous floral summer nail designs to try out this season..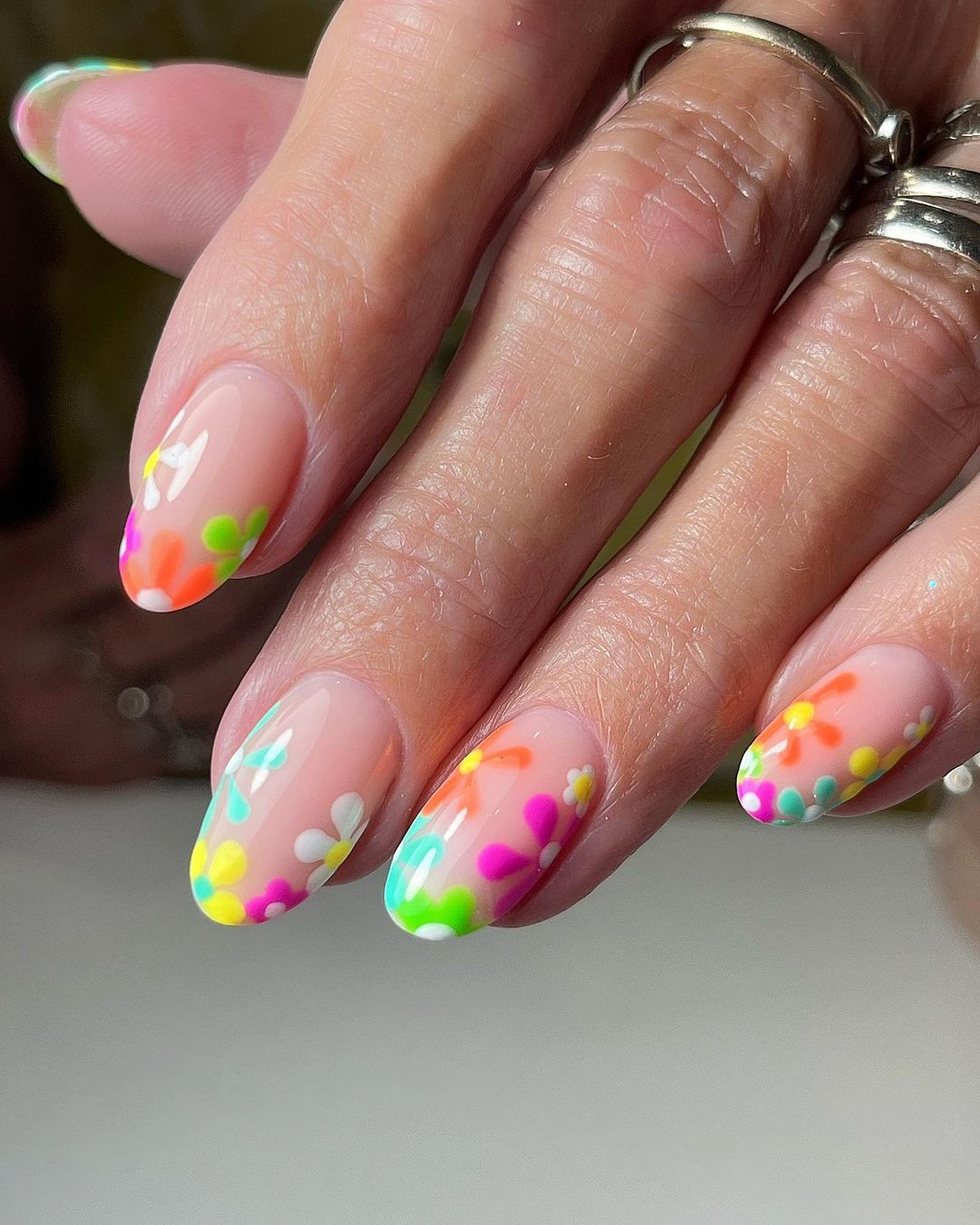 Source: instagram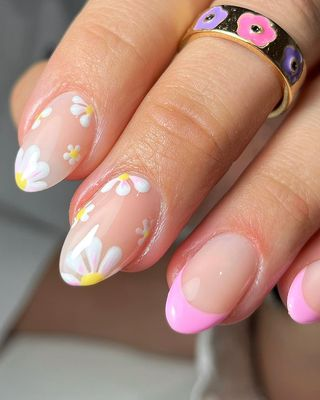 Source: instagram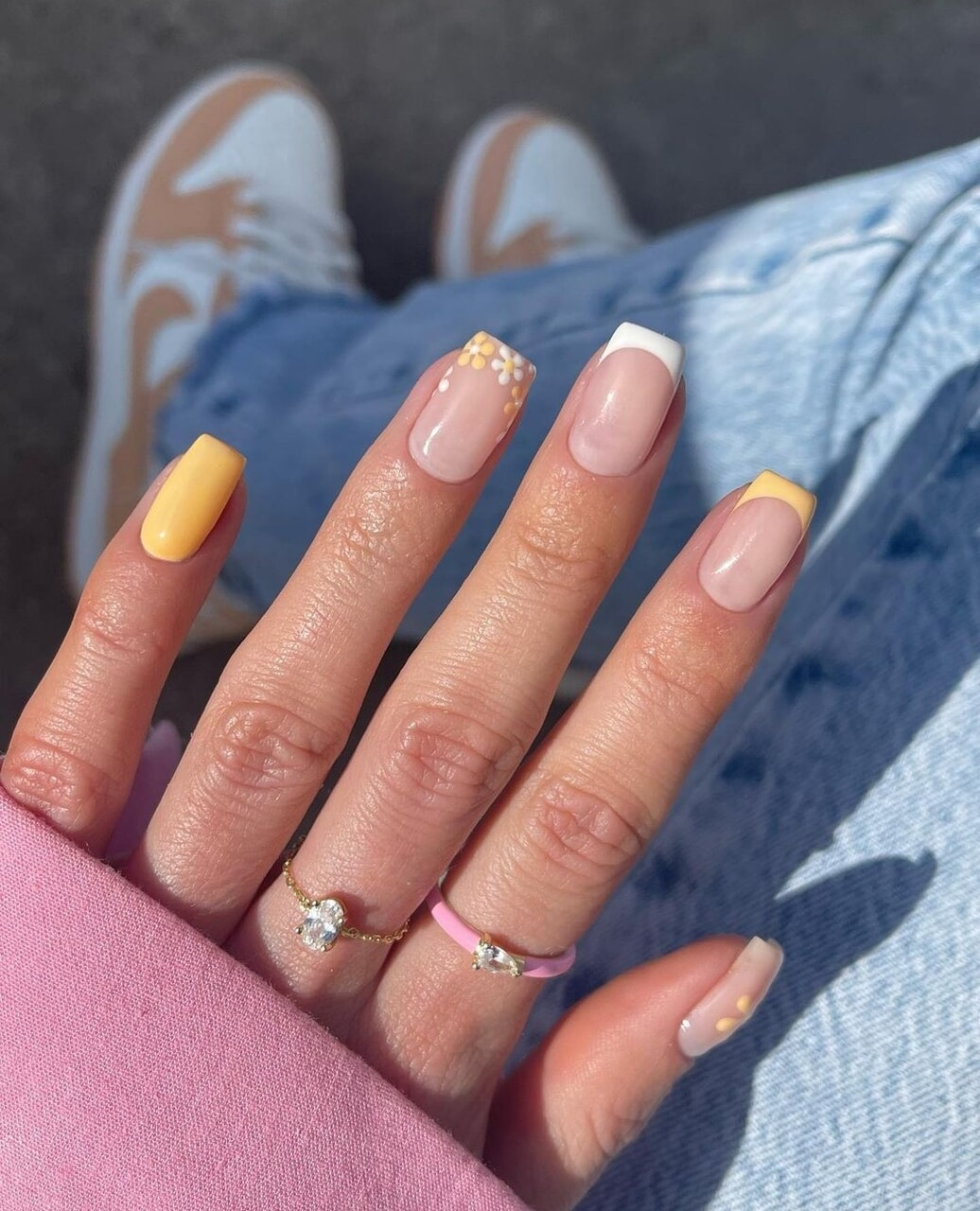 Source: WeHeartIt
The pink french tip look here is A MOOD!
I absolutely love a clear nail with delicate design on top.
Just SCREAMS classic.
Gotta say, I love this fun summer nail design so much!
The flowers make great use of negative space and the different colors give these hands the ultimate summer feel.
And absolutely love how delicate and french this nail design looks!
it's so dainty and delicate, I'm obsessed. Amazing summer vibes.
These gorgeous summer nails are an absolute MUST-TRY this season.
The detail on the flowers really shows how this nail artist knows her stuff.
Warm weather doesn't mean you can't go dark!
Give these darker nails try for a fun twist,
If you're looking for fun nail art, this POP of color is definitely one to check out.
The perfect summery nails for your next manicure.
Pastel Summer Nails
Light colors look gorgeous in the summer! They suit all outfits and make your hands look elegant as well.
These summer pastel nails are worth the hype! You must try out pastels and I promise, you won't go back!
Pastel nails have endless possibilities as you can get any design with these colors.
These are some of our favorites…
Make sure to mix and match these summer nails for a look that's sure to grab EVERYONE'S attention.
This fun twist with pastel and cow print nail art just SCREAMS cute summer nails!
Y2K Nail Art For Summer
Y2K started getting famous again and this trend is still going strong…
Y2K patterns can be seen everywhere from bags to clothes so why not incorporate this amazing style in your nails?
You can showcase your creativity through these fun summer nails.
Here's our take on the famous Y2K nail trend..
A fun twist on summer nails, these half-white and half-black nails aren't your standard summer nail colors but they are perfect for the season!
Another favorite! this delicately pink nail design is one of the best summer nails we have on this list (IMHO)
I love bright colors for the summer months!
And this twist on yin-yang is perfect for your next manicure!
Tropical Summer Nail Designs
Summers are all about going to the beach, drinking cocktails, and enjoying beautiful sunsets with friends.
If you love nature as much as I do, you will definitely appreciate some tropical summer nail art designs.
You can (and should!) mix and match different shades to create a unique look (but also, a monochromatic look is so nice – we can't decide!)
Once you decide on your base, add some fun tropical prints like palm trees, hibiscus flowers, or even simple waves for a fun touch.
Minimal Summer Nails
Do you not like too much going on your nails in the summer? We have got the perfect looks for you as well, don't worry!
These elegant, simple, classy, and alluring minimal summer nail designs are perfect for everyday casual wear.
A fun touch of orange for your next manicure or special occasion!
This manicure just screams 'pina colada on the beach.'
These sage green nails are completely different from anything I've ever tried.
They're currently a big trend! Don't mind me as I hop on the bandwagon.
Mix and Match Summer Nails
Like more than one pattern on your nails? Then why not mix and match summer nail designs!
You can draw different patterns like swirls, checkerboards, hearts, smileys (whatever you want!) on one nail set and enjoy your mesmerizing manicure.
Here are some inspirations for your mix-and-match summer nail designs!
Don't be afraid to even mix and match some of these designs yourself..
This is one of the most unique nails we have ever seen.
They are so out there you just have to try them for your next manicure. And send us a pic of how they turn out!
We're obsessed with the whole thing.
We may have been too quick to comment.
THIS nail design is now my favorite. Even if it has ghosts, it's still fun and bright for the summertime.
Plus I'm in love with these nail colors
Rainbow Summer Nails
Rainbows after a summer rain is a worth-seeing spectacle. And you can have such a scene on your nails by trying out rainbow summer nails!
Summer truly is the perfect time to experiment with fun colors and nails.
From bold and playful to nude and minimal summer nail colors, there is no shortage of options for your next manicure,
get creative with your summer nails and don't be scared to try some nail art for the first time! Trust me, once you start, you can't stop…
Have fun, and don't be afraid to step out of your comfort zone! And don't forget to send us your designs for a chance to be featured here!