10 Dollar Store Hacks To Organize a Small Kitchen
We typically tend to spend a lot of you time in the kitchen. Whether it's cooking, cleaning or just snacking, the kitchen is one of the most used rooms in any house.
Due to all the time and energy spent in a kitchen, it's important to have everything nice and organized so we can keep things working and flowing.
If you are looking for some cheap ways to organize your kitchen, or simply want to get inspired, you have come to the right place. All the things on this list can be purchased from your local Dollar Store.
Magazine Holders As Can Holders
Use magazine holders as can holder, which will free up a lot of counterspace. (Hack courtesy of PB&JStories)
Mason Jars For Spices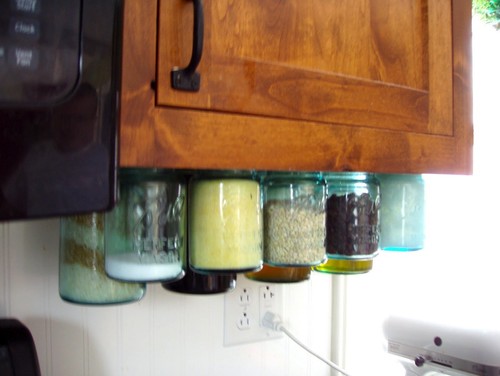 Use mason jars to organize your spices. You don't have to hang it up like the picture, but it does free up a lot of counter space if you do. (Hack courtesy of Houzz)
Produce Rack
A hanging wire rack for your fruits and veggies that not only looks adorable but saves you space. (Hack courtesy of domesticdivadomain)
Utensil Holders
These super colorful Mason Jars are used to organize your utensils so they don't take up an entire drawer. Also, I love the fact they're all labeled. (Hack courtesy of forrent)
Snacks In Little Compartments
Use a shoe organizer to store your snacks or individual packets. This is also an amazing DIY for your dorm to save space and keep snacks at an arms reach. (Hack Courtesy of Money Saving Queen)
More Spice Jars
These spice jars are ridiculously cute; all you need is the cheap jars, spray paint, and labels to recreate this look. (Hack courtesy of The Social Home)
Cutlery Organization
Get a couple of small baskets to organize your drawer. (Hack courtesy of The Elm Life)
Organize Your Tea And Medicine Cabinet
You can also use your baskets to organize your teas, candy, medicne, anything really.. (Hack Courtesy of HandyMan CraftyWoman)
Plastic File Holders For Lids
Purchase a couple of file folders and the sticky adhesive hooks to store your lids easily and quickly. (Hack found on Pinterest without a link, if you know the original site please leave it in the comments below so we may give credit)
Stock Up On Bins For Your Pantry
Buy a lot of bins in different sizes, it won't set you back more than $15 or $20 and your pantry will look like a dream. (Hack courtesy of Dibble Dabbles)