241+ Best Song Lyrics For Captions You Have To Steal
They say a picture is worth 1000 words, but sometimes a picture alone isn't enough.
Yes, I'm a big fan of one word captions, but some insta-shot need more spice.
And when you don't know exactly what to caption a picture, some badass rap lyrics can be your saving grace!
Or you just find the perfect Taylor Swift lyrics and BOOM! Your ready to hit upload.
Instagram posts don't have to be stressful, but coming up with unique and catchy instagram captions can be.
So I've got you covered.
Whether you want to show off your amazing travels, the love of your life, or that gorgeous outfit – there's a lyric here for you.
I can guarantee it!
Best Rap Lyrics For Instagram Caption
Alright rap.
Whatever mood you're in, you know Drake's got you.
Or maybe even some Eminem. Hell, throw in some Lil wayne in there too because why not!
Rap songs can truly capture a wide range of themes and experiences from diverse perspectives.
So whether you want a caption about empowerment, creativity, or just to look absolutely fabulous and #flex – I gotchu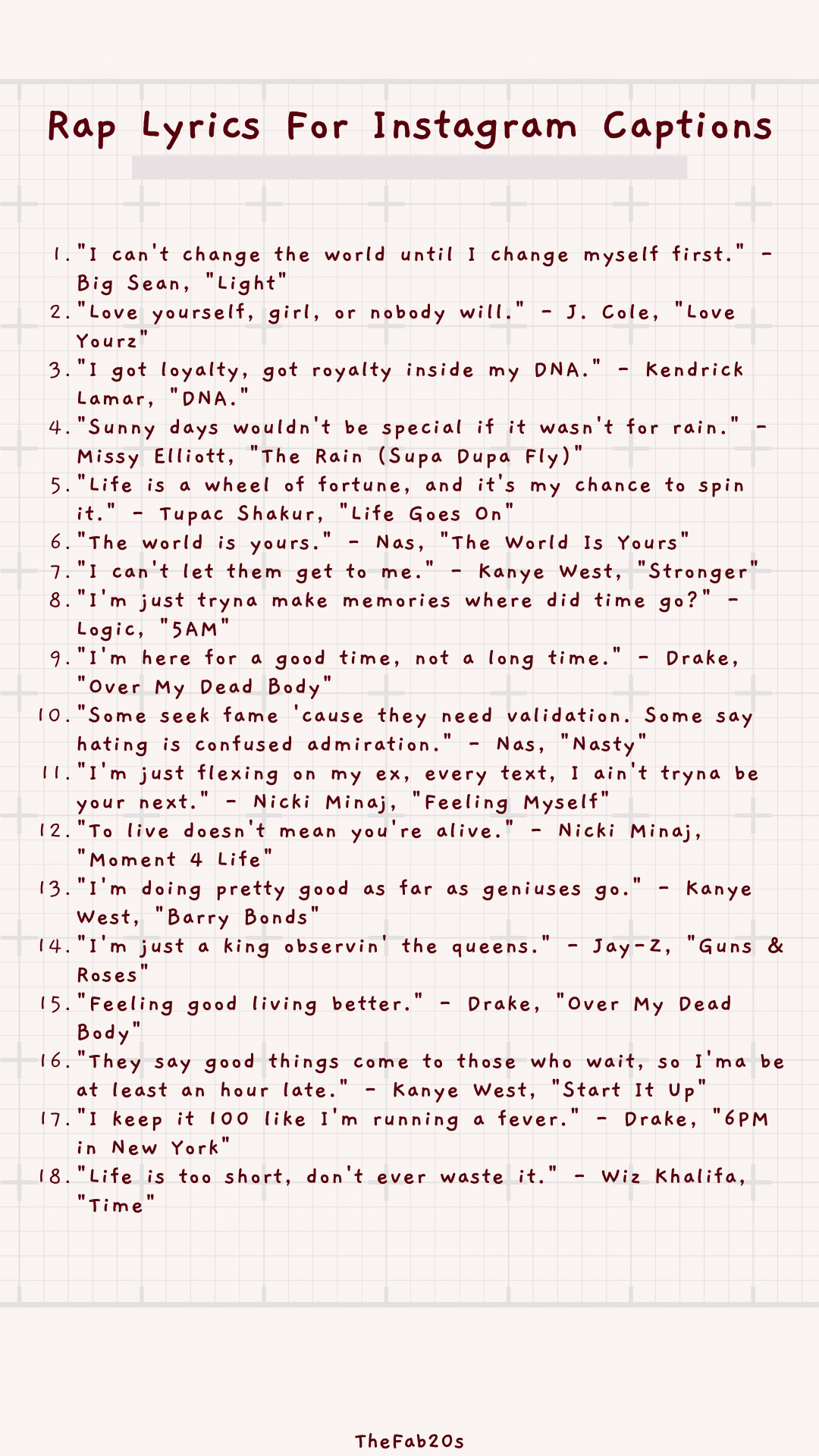 "It was all a dream." – The Notorious B.I.G., "Juicy"
"I'm just feelin' my vibe right now. I'm feelin' myself." – Desiigner, "Panda"
"Started from the bottom, now we're here." – Drake, "Started from the Bottom"
"I'ma keep running 'cause a winner don't quit on themselves." – Beyoncé, "Freedom"
"I'm just a soul whose intentions are good." – 2Pac, "Keep Ya Head Up"
"Now they always say congratulations." – Post Malone, "Congratulations"
"Know yourself, know your worth." – Drake, "0 to 100 / The Catch Up"
"I can't change the world until I change myself first." – Big Sean, "Light"
"Love yourself, girl, or nobody will." – J. Cole, "Love Yourz"
"I got loyalty, got royalty inside my DNA." – Kendrick Lamar, "DNA."
"Sunny days wouldn't be special if it wasn't for rain." – Missy Elliott, "The Rain (Supa Dupa Fly)"
"Life is a wheel of fortune, and it's my chance to spin it." – Tupac Shakur, "Life Goes On"
"The world is yours." – Nas, "The World Is Yours"
"I can't let them get to me." – Kanye West, "Stronger"
"I'm just tryna make memories where did time go?" – Logic, "5AM"
"I'm here for a good time, not a long time." – Drake, "Over My Dead Body"
"Some seek fame 'cause they need validation. Some say hating is confused admiration." – Nas, "Nasty"
"I'm just flexing on my ex, every text, I ain't tryna be your next." – Nicki Minaj, "Feeling Myself"
"To live doesn't mean you're alive." – Nicki Minaj, "Moment 4 Life"
"I'm doing pretty good as far as geniuses go." – Kanye West, "Barry Bonds"
"I'm just a king observin' the queens." – Jay-Z, "Guns & Roses"
"Feeling good living better." – Drake, "Over My Dead Body"
"They say good things come to those who wait, so I'ma be at least an hour late." – Kanye West, "Start It Up"
"It's a celebration, clap, clap, bravo." – Drake, "Light Up"
"Gettin' paid like a biker with the best crank." – Kendrick Lamar, "Bitch, Don't Kill My Vibe"
"Life's a movie, I'm never off set." – Jay-Z, "Empire State of Mind"
"I'm on the pursuit of happiness." – Kid Cudi, "Pursuit of Happiness"
"So we can kick it like Jet Li, Bruce Lee, and Jackie Chan." – Lupe Fiasco, "Out of My Head"
"I just want a life that's good." – Big Sean, "Life Is Good"
"You only live once; that's the motto." – Drake, "The Motto"
"If you can't be yourself, then you're just a fraud." – Nicki Minaj, "Marilyn Monroe"
"Life's a test, guess I was born for it." – Wiz Khalifa, "Black and Yellow"
"Don't stop, get it, get it!" – 2Pac, "California Love"
"I keep it 100 like I'm running a fever." – Drake, "6PM in New York"
"I'm in my own lane, you ain't in my category." – Logic, "44 Bars"
"Life is too short, don't ever waste it." – Wiz Khalifa, "Time"
Check This Next: 427+ Private Story Names For Snapchat To Steal
Best Taylor Swift Lyrics for Captions
Ugh. Taylor Swift.
What can I say about her that hasn't already been said…
From the depth of her lyrics to just how relatable and authentic she comes across.
There are Taylor Swift songs for any and every instagram posts you can imagine.
We had to keep this list short and sweet so we only picked a couple of our favorites.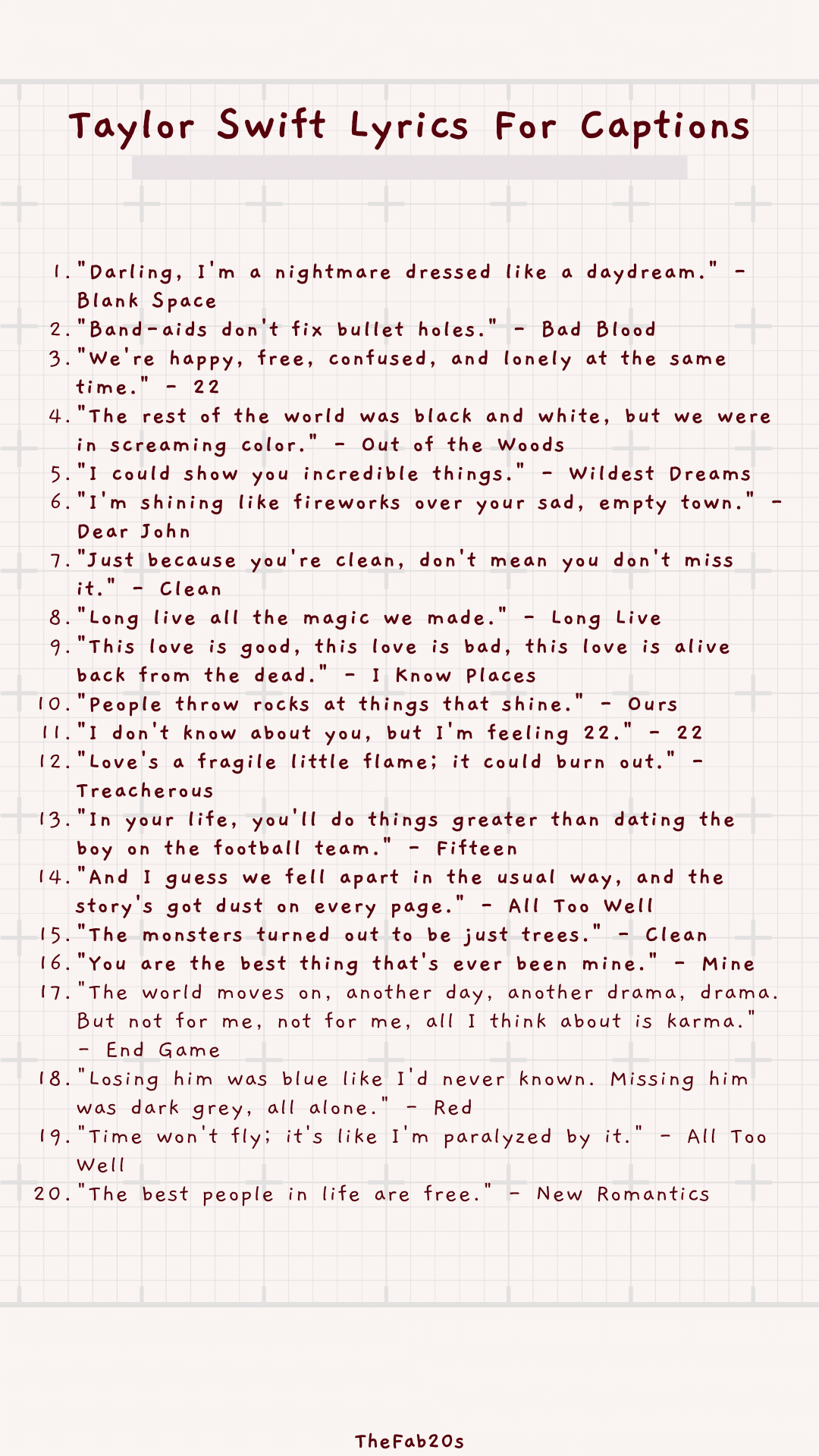 "Darling, I'm a nightmare dressed like a daydream." – Blank Space
"Band-aids don't fix bullet holes." – Bad Blood
"We're happy, free, confused, and lonely at the same time." – 22
"The rest of the world was black and white, but we were in screaming color." – Out of the Woods
"I could show you incredible things." – Wildest Dreams
"I'm shining like fireworks over your sad, empty town." – Dear John
"Just because you're clean, don't mean you don't miss it." – Clean
"Long live all the magic we made." – Long Live
"This love is good, this love is bad, this love is alive back from the dead." – I Know Places
"People throw rocks at things that shine." – Ours
"I don't know about you, but I'm feeling 22." – 22
"Love's a fragile little flame; it could burn out." – Treacherous
"In your life, you'll do things greater than dating the boy on the football team." – Fifteen
"And I guess we fell apart in the usual way, and the story's got dust on every page." – All Too Well
"The monsters turned out to be just trees." – Clean
"You are the best thing that's ever been mine." – Mine
"The rain came pouring down when I was drowning; that's when I could finally breathe." – Clean
"The world moves on, another day, another drama, drama. But not for me, not for me, all I think about is karma." – End Game
"Losing him was blue like I'd never known. Missing him was dark grey, all alone." – Red
"Time won't fly; it's like I'm paralyzed by it." – All Too Well
"The best people in life are free." – New Romantics
"I swear I don't love the drama; it loves me." – I Did Something Bad
"The story of us looks a lot like a tragedy now." – The Story of Us
"I'm doing better than I ever was." – Delicate
"The haters gonna hate, hate, hate, hate, hate." – Shake It Off
"When you're young, you just run, but you come back to what you need." – This Love
"I'm perfectly fine; I live on my own. I made up my mind; I'm better off being alone." – I Forgot That You Existed
"We are never ever getting back together." – We Are Never Ever Getting Back Together
"But on a Wednesday, in a cafe, I watched it begin again." – Begin Again
"And all at once, you are the one I have been waiting for." – State of Grace
"The only thing we had in common is the same love for the same music." – Stay Stay Stay
"You made a rebel of a careless man's careful daughter." – Mean
"I'd like to be my old self again, but I'm still trying to find it." – All Too Well
"People like me are gone forever when you say goodbye." – All You Had to Do Was Stay
"It's hard not to find it all a little bittersweet." – Holy Ground
"And I know it's long gone, and that magic's not here no more." – All Too Well
Are there any lyrics you think we really must add? Honestly, 36 is TOO short for Taylor Swift, we may have to update this list ASAP.
Country Song Lyrics For Captions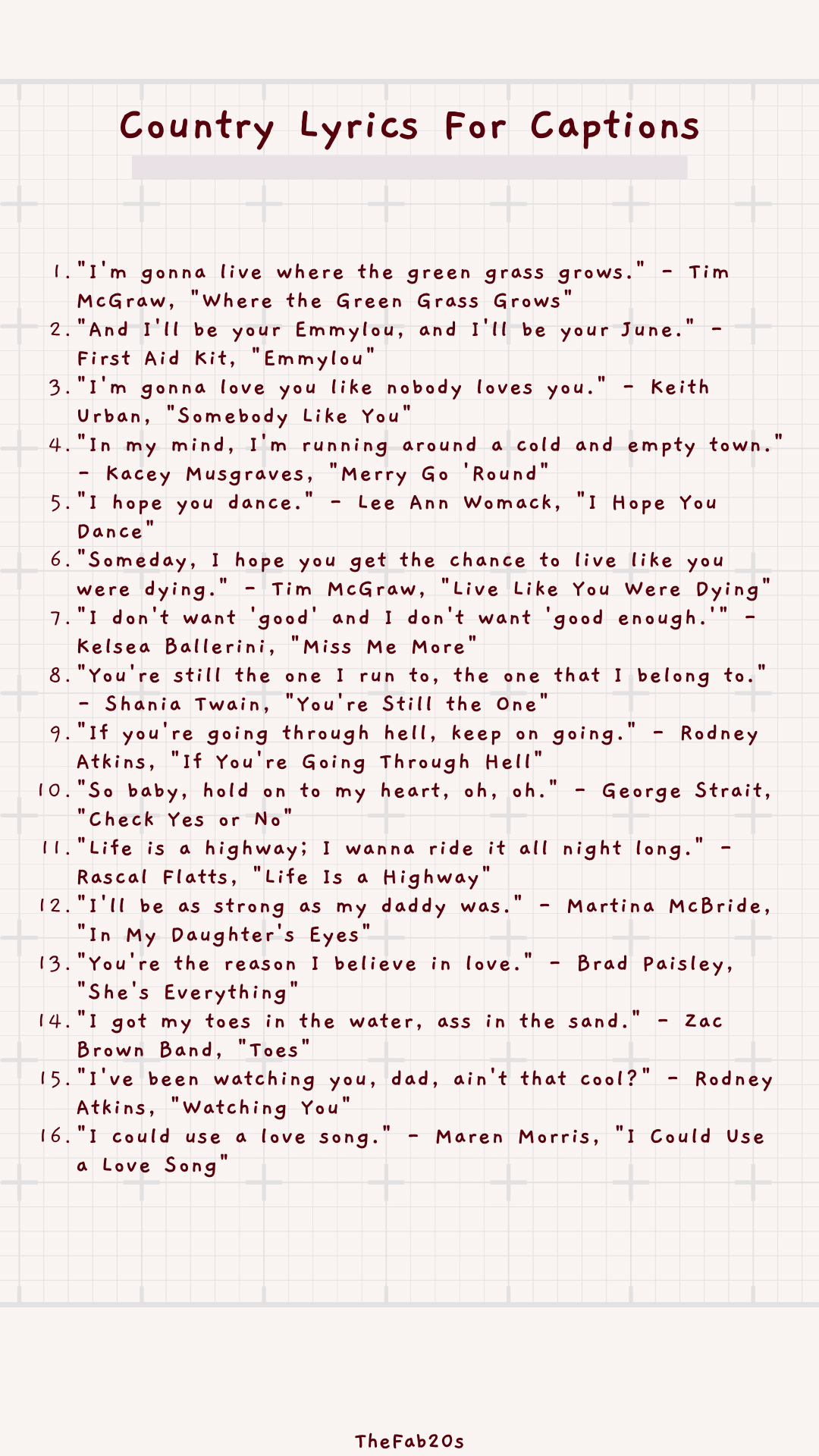 "I'm gonna live where the green grass grows." – Tim McGraw, "Where the Green Grass Grows"
"And I'll be your Emmylou, and I'll be your June." – First Aid Kit, "Emmylou"
"I'm gonna love you like nobody loves you." – Keith Urban, "Somebody Like You"
"In my mind, I'm running around a cold and empty town." – Kacey Musgraves, "Merry Go 'Round"
"I hope you dance." – Lee Ann Womack, "I Hope You Dance"
"Someday, I hope you get the chance to live like you were dying." – Tim McGraw, "Live Like You Were Dying"
"I don't want 'good' and I don't want 'good enough.'" – Kelsea Ballerini, "Miss Me More"
"You're still the one I run to, the one that I belong to." – Shania Twain, "You're Still the One"
"If you're going through hell, keep on going." – Rodney Atkins, "If You're Going Through Hell"
"So baby, hold on to my heart, oh, oh." – George Strait, "Check Yes or No"
"Life is a highway; I wanna ride it all night long." – Rascal Flatts, "Life Is a Highway"
"I'll be as strong as my daddy was." – Martina McBride, "In My Daughter's Eyes"
"You're the reason I believe in love." – Brad Paisley, "She's Everything"
"I got my toes in the water, ass in the sand." – Zac Brown Band, "Toes"
"I've been watching you, dad, ain't that cool?" – Rodney Atkins, "Watching You"
"I could use a love song." – Maren Morris, "I Could Use a Love Song"
"You're gonna miss this; you're gonna want this back." – Trace Adkins, "You're Gonna Miss This"
"And I loved deeper, and I spoke sweeter." – Tim McGraw, "Live Like You Were Dying"
"I wanna be your last, first kiss." – Eric Paslay, "Friday Night"
"Oh, I swear to you, I'll be there for you." – Keith Urban, "Making Memories of Us"
"I ain't settling for just getting by." – Miranda Lambert, "Kerosene"
"I don't know how you do what you do; I'm so in love with you." – Tim McGraw, "How It Feels to Be Me"
"I just wanna live while I'm alive." – Jon Bon Jovi, "It's My Life"
"If you want the rainbow, you gotta put up with the rain." – Dolly Parton
"Happiness is found when you stop comparing yourself to other people." – Thomas Rhett, "Life Changes"
"It's hard to be a diamond in a rhinestone world." – Dolly Parton, "Diamonds Are a Girl's Best Friend"
Lyric Captions For An Outfit Pic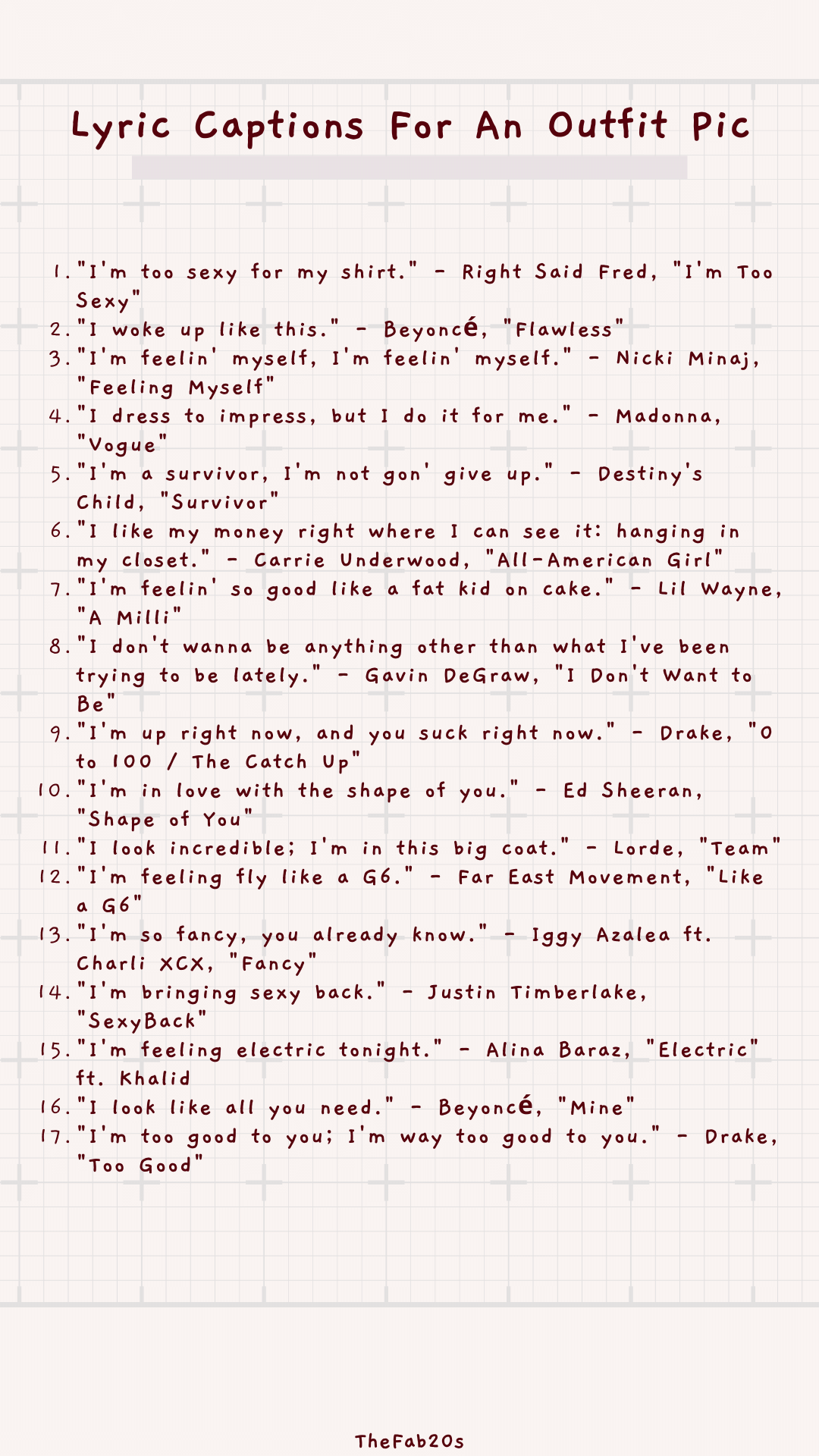 "I'm too sexy for my shirt." – Right Said Fred, "I'm Too Sexy"
"I woke up like this." – Beyoncé, "Flawless"
"I'm feelin' myself, I'm feelin' myself." – Nicki Minaj, "Feeling Myself"
"I dress to impress, but I do it for me." – Madonna, "Vogue"
"I'm a survivor, I'm not gon' give up." – Destiny's Child, "Survivor"
"I like my money right where I can see it: hanging in my closet." – Carrie Underwood, "All-American Girl"
"I'm feelin' so good like a fat kid on cake." – Lil Wayne, "A Milli"
"I don't wanna be anything other than what I've been trying to be lately." – Gavin DeGraw, "I Don't Want to Be"
"I'm up right now, and you suck right now." – Drake, "0 to 100 / The Catch Up"
"I'm in love with the shape of you." – Ed Sheeran, "Shape of You"
"I look incredible; I'm in this big coat." – Lorde, "Team"
"I'm feeling fly like a G6." – Far East Movement, "Like a G6"
"I'm so fancy, you already know." – Iggy Azalea ft. Charli XCX, "Fancy"
"I'm bringing sexy back." – Justin Timberlake, "SexyBack"
"I'm feeling electric tonight." – Alina Baraz, "Electric" ft. Khalid
"I look like all you need." – Beyoncé, "Mine"
"I'm too good to you; I'm way too good to you." – Drake, "Too Good"
"I'm on top of the world." – Imagine Dragons, "On Top of the World"
"I'm the queen of my own throne." – Halsey, "New Americana"
"I'm a rockstar, baby, on a big stage." – Post Malone, "Rockstar"
"I'm a wanderess; I'm a one-night stand." – Lana Del Rey, "Off to the Races"
"I'm feelin' so exotic." – Priyanka Chopra ft. Pitbull, "Exotic"
"I'm feeling sexy and free." – Katy Perry, "Firework"
"I'm a dreamer; step into my world." – Katy Perry, "Roulette"
"I'm a wildflower, rare and beautiful." – Cyn, "I'll Still Have Me"
"I'm a grown woman; I can do whatever I want." – Beyoncé, "Grown Woman"
"I'm a star; I'm on top, somebody bring me some ham." – Beyoncé, "Divine" (from Dreamgirls)
"I'm on my own time, let a nigga watch me." – Cardi B, "I Do"
"I'm a shooting star leaping through the sky." – Queen, "Don't Stop Me Now"
Baddie Song Lyric Captions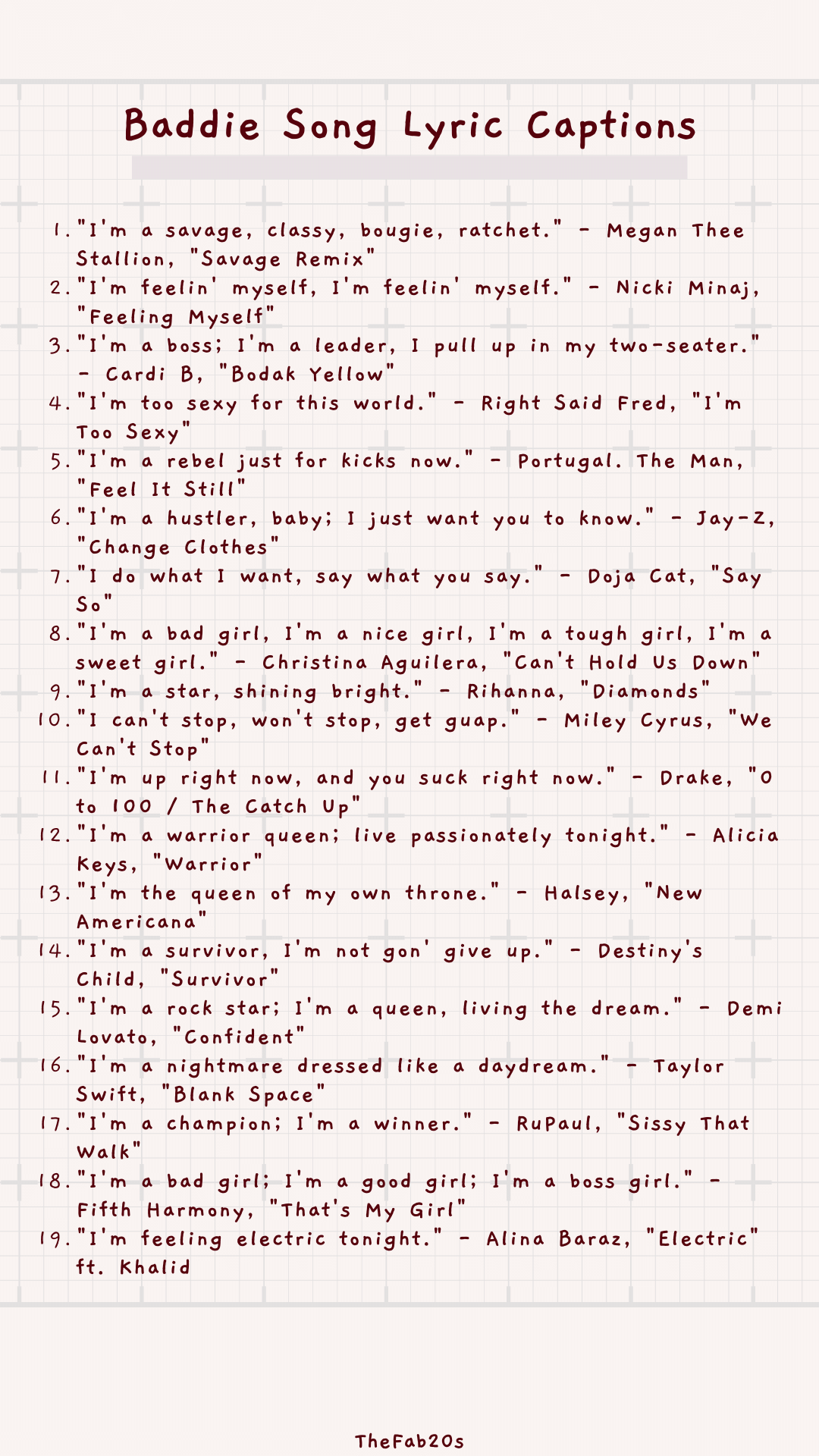 "I'm a savage, classy, bougie, ratchet." – Megan Thee Stallion, "Savage Remix"
"I'm feelin' myself, I'm feelin' myself." – Nicki Minaj, "Feeling Myself"
"I'm a boss; I'm a leader, I pull up in my two-seater." – Cardi B, "Bodak Yellow"
"I'm too sexy for this world." – Right Said Fred, "I'm Too Sexy"
"I'm a rebel just for kicks now." – Portugal. The Man, "Feel It Still"
"I'm a hustler, baby; I just want you to know." – Jay-Z, "Change Clothes"
"I do what I want, say what you say." – Doja Cat, "Say So"
"I'm a bad girl, I'm a nice girl, I'm a tough girl, I'm a sweet girl." – Christina Aguilera, "Can't Hold Us Down"
"I'm a star, shining bright." – Rihanna, "Diamonds"
"I can't stop, won't stop, get guap." – Miley Cyrus, "We Can't Stop"
"I'm up right now, and you suck right now." – Drake, "0 to 100 / The Catch Up"
"I'm a warrior queen; live passionately tonight." – Alicia Keys, "Warrior"
"I'm the queen of my own throne." – Halsey, "New Americana"
"I'm a survivor, I'm not gon' give up." – Destiny's Child, "Survivor"
"I'm a rock star; I'm a queen, living the dream." – Demi Lovato, "Confident"
"I'm a nightmare dressed like a daydream." – Taylor Swift, "Blank Space"
"I'm a champion; I'm a winner." – RuPaul, "Sissy That Walk"
"I'm a bad girl; I'm a good girl; I'm a boss girl." – Fifth Harmony, "That's My Girl"
"I'm feeling electric tonight." – Alina Baraz, "Electric" ft. Khalid
"I'm not a regular person; I'm a bad bitch." – Iggy Azalea, "Kream"
"I'm a force of nature." – Bea Miller, "Force of Nature"
"I'm a girl with a mind, a woman with attitude, and a lady with class." – Beyoncé, "Halo"
"I'm too busy, I'm too busy, I'm too busy." – Lizzo, "Truth Hurts"
"I'ma do the things that I wanna do." – The Black Eyed Peas, "Imma Be"
"I'm a little bit of heaven with a wild side." – Kelly Clarkson, "Miss Independent"
"I'm a queen, I'm a boss, I'm a brat." – Iggy Azalea, "Started"
"I'm on top of the world." – Imagine Dragons, "On Top of the World"
"I'ma do my thing; no apologies." – Demi Lovato, "Confident"
"I'm a king, I'm a queen, I'm a star, I'm everything." – Beyoncé, "Black Parade"
"I'm a wildflower, rare and beautiful." – Cyn, "I'll Still Have Me"
"I'm feeling sexy and free." – Katy Perry, "Firework"
Romantic Song Lyrics Captions for Couples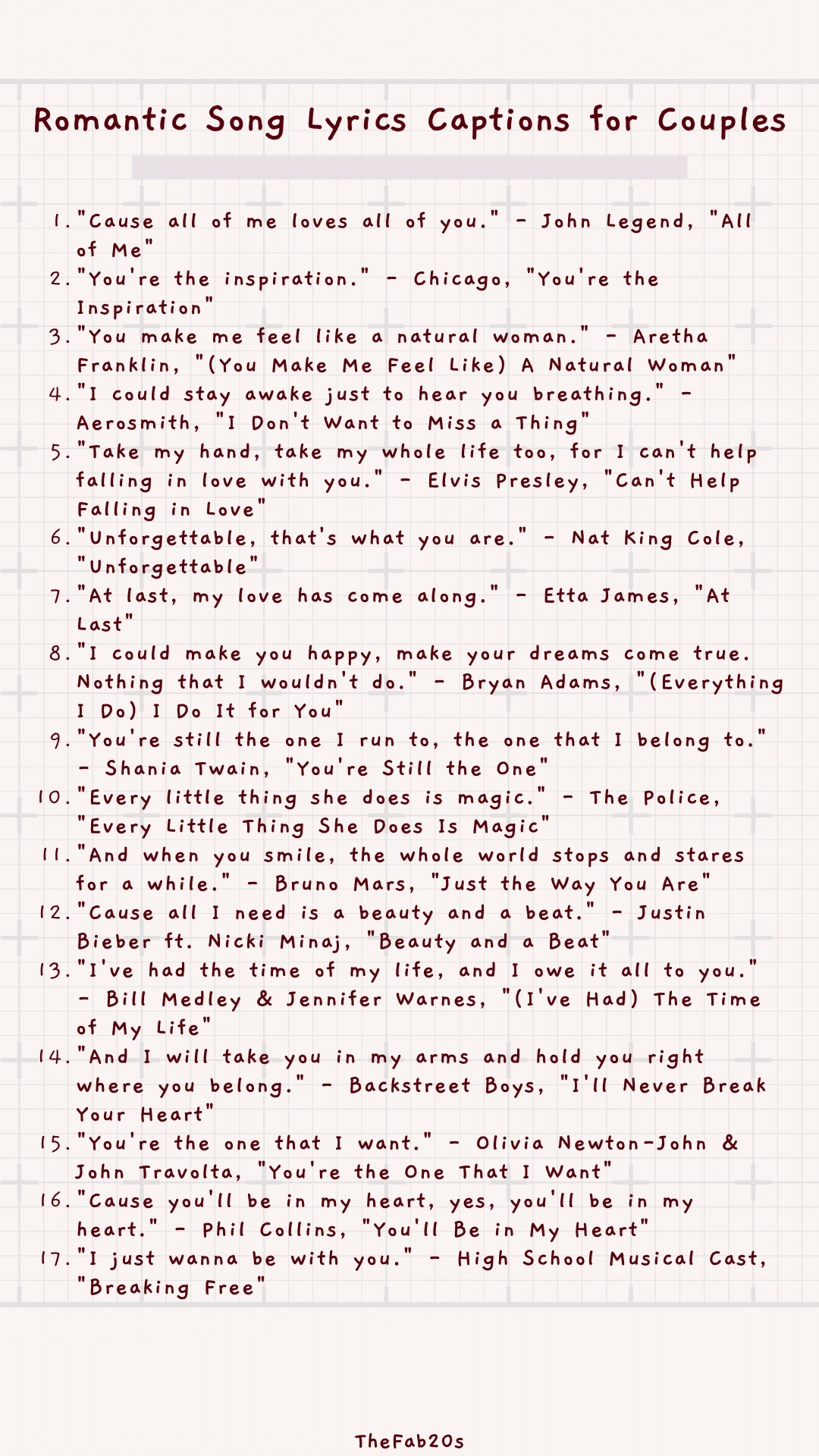 "Cause all of me loves all of you." – John Legend, "All of Me"
"You're the inspiration." – Chicago, "You're the Inspiration"
"You make me feel like a natural woman." – Aretha Franklin, "(You Make Me Feel Like) A Natural Woman"
"I could stay awake just to hear you breathing." – Aerosmith, "I Don't Want to Miss a Thing"
"Take my hand, take my whole life too, for I can't help falling in love with you." – Elvis Presley, "Can't Help Falling in Love"
"Unforgettable, that's what you are." – Nat King Cole, "Unforgettable"
"At last, my love has come along." – Etta James, "At Last"
"I could make you happy, make your dreams come true. Nothing that I wouldn't do." – Bryan Adams, "(Everything I Do) I Do It for You"
"You're still the one I run to, the one that I belong to." – Shania Twain, "You're Still the One"
"Every little thing she does is magic." – The Police, "Every Little Thing She Does Is Magic"
"And when you smile, the whole world stops and stares for a while." – Bruno Mars, "Just the Way You Are"
"Cause all I need is a beauty and a beat." – Justin Bieber ft. Nicki Minaj, "Beauty and a Beat"
"I've had the time of my life, and I owe it all to you." – Bill Medley & Jennifer Warnes, "(I've Had) The Time of My Life"
"And I will take you in my arms and hold you right where you belong." – Backstreet Boys, "I'll Never Break Your Heart"
"You're the one that I want." – Olivia Newton-John & John Travolta, "You're the One That I Want"
"Cause you'll be in my heart, yes, you'll be in my heart." – Phil Collins, "You'll Be in My Heart"
"I just wanna be with you." – High School Musical Cast, "Breaking Free"
"I'll be there for you, these five words I swear to you." – The Rembrandts, "I'll Be There for You"
"You are the best thing that's ever been mine." – Taylor Swift, "Mine"
"I swear this is perfect; come kiss me one more time." – Train, "Marry Me"
"With you, I'm alive, like all the missing pieces of my heart, they finally collide." – Avicii, "Wake Me Up"
"I'm feeling you like a sunset." – Khalid, "Location"
"I've been spending way too long checking my tongue in the mirror." – Meghan Trainor, "Dear Future Husband"
"I belong with you; you belong with me, you're my sweetheart." – The Lumineers, "Ho Hey"
"In the end, you're still my best friend." – Nelly, "Dilemma"
"You're the one I love; you're the one I need." – Ellie Goulding, "Love Me Like You Do"
"My heart's a stereo; it beats for you, so listen close." – Gym Class Heroes ft. Adam Levine, "Stereo Hearts"
"If you're not the one, then why does my soul feel glad today?" – Daniel Bedingfield, "If You're Not the One"
"We found love in a hopeless place." – Rihanna ft. Calvin Harris, "We Found Love"
"I'll be your dream, I'll be your wish, I'll be your fantasy." – Savage Garden, "Truly Madly Deeply"
"No one else could make me feel the colors that you bring." – Coldplay, "Yellow"
"I've got sunshine on a cloudy day." – The Temptations, "My Girl"
"I found love where it wasn't supposed to be." – Alicia Keys, "No One"
"It's a beautiful night; we're looking for something dumb to do." – Justin Timberlake, "Mirrors"
"I wanna grow old with you." – Adam Sandler, "Grow Old With You"
Song Lyrics Instagram Captions For Birthday
"Today is your day, live it your way." – Rihanna, "Birthday Cake"
"It's your birthday; we gon' party like it's yo birthday." – 50 Cent, "In Da Club"
"It's a beautiful day, don't let it get away." – U2, "Beautiful Day"
"They say it's your birthday; we're gonna have a good time." – The Beatles, "Birthday"
"I've got the gift of one-liners, and I've got the fever for you." – Billy Joel, "It's Still Rock and Roll to Me"
"It's a celebration, clap, clap, bravo!" – Drake, "Light Up"
"I'm feelin' like a star, you can't stop my shine." – Jason Derulo, "Ridin' Solo"
"Cheers to the freakin' weekend!" – Rihanna, "Cheers (Drink to That)"
"I'm just getting started; oh, oh, oh." – Demi Lovato, "Unbroken"
"I'm walking on sunshine, whoa!" – Katrina and The Waves, "Walking on Sunshine"
"Celebrate good times, come on!" – Kool & The Gang, "Celebration"
"The best is yet to come." – Frank Sinatra, "The Best Is Yet to Come"
"I live for the applause, applause, applause." – Lady Gaga, "Applause"
"Today is where your book begins; the rest is still unwritten." – Natasha Bedingfield, "Unwritten"
"Tonight, we are young, so let's set the world on fire." – fun., "We Are Young"
"It's my party, and I'll cry if I want to." – Lesley Gore, "It's My Party"
"You're a shooting star; I see a vision of ecstasy." – LMFAO, "Shots"
"All I do is win, win, win, no matter what." – DJ Khaled, "All I Do Is Win"
"I'm feeling like I'm running this town." – Rihanna, "Run This Town"
"I'm coming up, so you better get this party started." – Pink, "Get the Party Started"
"Put your hands up; it's a stick-up." – Demi Lovato, "Who's That Boy"
"Tonight's gonna be a good night." – The Black Eyed Peas, "I Gotta Feeling"
"You're a shining star." – Earth, Wind & Fire, "Shining Star"
"No matter what you say or what you do, I'm gonna celebrate you." – DJ Khaled ft. Justin Bieber, "I'm The One"
"Forever young" – Alphaville, "Forever Young"
"Tell 'em that it's my birthday when I party like that!" – Selena Gomez, "Birthday"
Friendship Song Lyrics for Instagram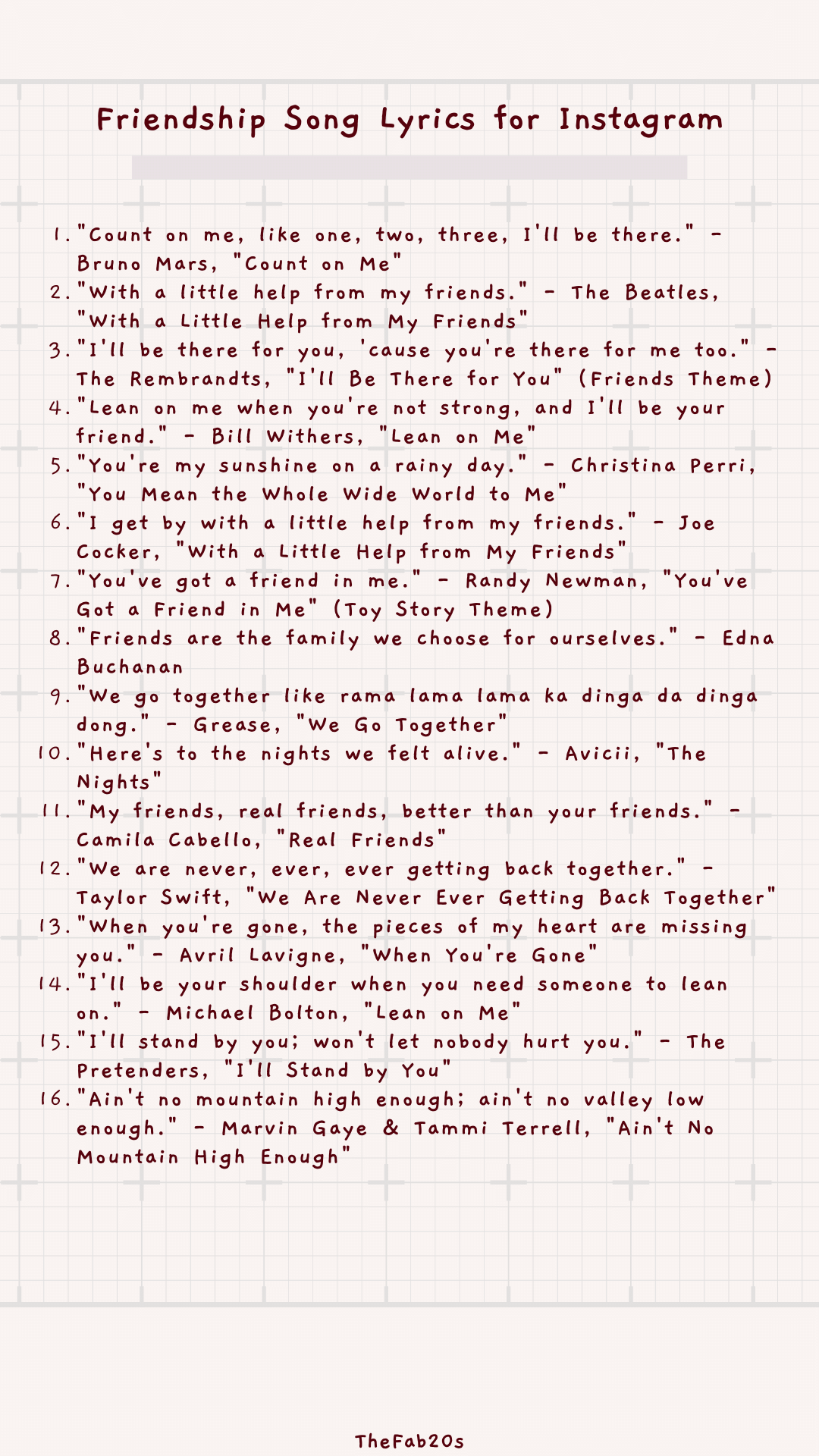 "Count on me, like one, two, three, I'll be there." – Bruno Mars, "Count on Me"
"With a little help from my friends." – The Beatles, "With a Little Help from My Friends"
"I'll be there for you, 'cause you're there for me too." – The Rembrandts, "I'll Be There for You" (Friends Theme)
"Lean on me when you're not strong, and I'll be your friend." – Bill Withers, "Lean on Me"
"You're my sunshine on a rainy day." – Christina Perri, "You Mean the Whole Wide World to Me"
"I get by with a little help from my friends." – Joe Cocker, "With a Little Help from My Friends"
"You've got a friend in me." – Randy Newman, "You've Got a Friend in Me" (Toy Story Theme)
"Friends are the family we choose for ourselves." – Edna Buchanan
"We go together like rama lama lama ka dinga da dinga dong." – Grease, "We Go Together"
"Here's to the nights we felt alive." – Avicii, "The Nights"
"My friends, real friends, better than your friends." – Camila Cabello, "Real Friends"
"We are never, ever, ever getting back together." – Taylor Swift, "We Are Never Ever Getting Back Together"
"When you're gone, the pieces of my heart are missing you." – Avril Lavigne, "When You're Gone"
"I'll be your shoulder when you need someone to lean on." – Michael Bolton, "Lean on Me"
"I'll stand by you; won't let nobody hurt you." – The Pretenders, "I'll Stand by You"
"Ain't no mountain high enough; ain't no valley low enough." – Marvin Gaye & Tammi Terrell, "Ain't No Mountain High Enough"
"Thank you for being a friend." – Andrew Gold, "Thank You for Being a Friend" (The Golden Girls Theme)
"I'll be there for you, like I've been there before." – Bon Jovi, "I'll Be There for You"
"Friends are the sunshine of life." – John Hay
"If I'm shining, everybody gonna shine." – Lizzo, "Good as Hell"
"Hold my hand; we'll make it, I swear." – Bon Jovi, "Livin' on a Prayer"
"I'm lucky I'm in love with my best friend." – Jason Mraz, "Lucky"